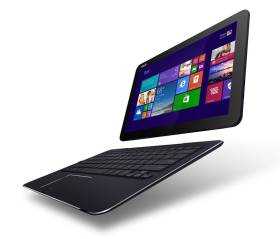 CES 2015 turned out to be a surprisingly good show for ultra-mobile PC fans. Broadwell-U was officially launched, Intel announced that Cherry Trail was shipping and we saw two very interesting 9-inch 2-in-1 Windows PCs. There were more Core M-based PCs announced too.
Check out all the CES 2015 news on UMPCPortal here.
Before CES 2015 started I was ready to track three main keywords. Chromebook, Broadwell and Cherry Trail. While Cherry Trail got a few lines in a press release there weren't enough details for even a brief post so we'll have to  put that on hold until MWC in March. As for Chromebooks, a sector that is producing some great value lightweight laptops, there was just one announced. This 15.6-incher is not for UMPCPortal! Thankfully the Broadwell keyword delivered along with new entrants in the existing Core M and Baytrail-T camps.
The Nec Lavie is a product that I've seen in a several forms over the years but at CES 2015 we saw Lenovo and NEC coming together to bring the new Lavie Z ultrabooks to the USA. These 13-inch laptops start at under 800 grams ( 1.72 pounds) and include hi-resolution screens and the Broadwell-U processors for real 'anything, anywhere' action. There's an issue though as the battery capacity starts at 29.6Wh which is not going to give you all-day power. They're also very expensive!
There's an all-day option with the updated, Broadwell-powered Dell XPS 13 ultrabook. Again you're getting high-resolution screen options but in this case a solid 55Wh battery is probably going to mean that most people can leave a few hundred grams of power-adaptor at home or in the hotel. The XPS 13 has been around for a number of years and there's a good reason for that – it's a great Ultrabook. The new Broadwell-U Dell XPS 13 model starts with a Full HD screen, 1.2KG weight (2.8 pounds) and a Core i3 CPU at 2.1 Ghz. The launch price is just $799 !
Moving on to more compact solutions now and credit must got to Toshiba who introduced three devices that are interesting you ultra-mobile computing fans. The two Encore 2 Write models have a digitizer layer and use Wacom technology.  Digital artists are going to be interested as the 8-inch version starts at $349. The 10-inch version, which has a HDMI port, is just $399.  If the quality is high on these tablets, and it looks like it is, then they're likely to be the best pen-enabled options in the low-cost ultra-mobile PC market when they become available.
The biggest surprise of the show for me was the Toshiba Click Mini. This 9-inch Baytrail-T tablet has a true docking keyboard that has an extra battery, a USB port and full-size SD card slot. The Full HD screen and 1KG (2.2 pounds) weight is perfect and the price is just 340 Euros. Unfortunately Toshiba USA said that they won't be bringing this to the USA which is a huge, huge shame because this is looking like one of the best ultra mobile PCs of this generation. More information here.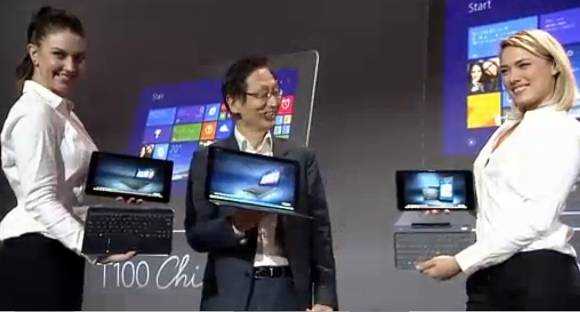 ASUS announced three ASUS Chi products at CES and all three of them deserve our attention. A 12.5-inch Core M fanless, dockable 2-in-1 with a tablet weight of just 720 grams is what you'll get in the ASUS Transformer Book  Chi. This is a real showcase product for Core M (it's been teased since the day Core M was launched) and at just $699 this product, along with the Acer Switch 12, HP Envy 13 X2, Transformer T300FA and the Lenovo Yoga 3 11 create a new class of desktop-capable, fanless dockables.  The Chi T300 will also come in a high-end (Core M 5Y71, QHD display) version.
The second of the ASUS Chi products might sound familiar. The Transformer Book T100 has been one of the most successful X86-based dockable tablets so far. If the Transformer Book T100 Chi  improves on the T100 formula it could be a winner. There's a Full HD display available on the redesigned version which will please a lot of people but may be a barrier to some using desktop software that doesn't scale. There's a high-end Baytrail-T CPU inside although that CPU already exists in current versions of the T100.  There are rumors of 64-bit Windows too which could mean easier Linux compatibility that's not confirmed at this stage.  The USB 3.0 port is not something you'll find on the old T100. Total weight is an impressive 1KG (2.2 pounds.) Pricing starts at $399.
We now need to talk about what I suspect will be the most popular ultra-mobile PC on this site – the 9-inch, full-HD Transformer Book T90 Chi. 8.9-inches is relatively untouched ground for Windows tablets but by using this screen size ASUS have combined a tablet with a keyboard and produced something that looks extremely attractive and usable. Like the T100 there's only a Bluetooth keyboard here but the Z3775 CPU should provide best-in-class performance. A free year of Office 365 (and the Skype and OneDrive value that comes with it) and a starting price of  $299. The T90 Chi will go head-to-head with the Toshiba Click Mini which has a lower-powered processor. The T100 only has a Bluetooth keyboard though so there's no battery, USB port or SD card reader on it. That might put the Toshiba Click Mini at #1 for some people. Keyboard testing is needed! I have some more thoughts on the T90 Chi here.
Finally there's a new Yoga in town the Lenovo Yoga 3 11 runs Core M, weighs 1.1KG and costs $799. Lenovo have updated the screen with Full HD resolution and slightly improved the casing and hinge. I hesitate to get too excited about this new Yoga as there's a relatively small battery inside and tablets that weight 1.1KG really don't impress me unless they've got a digitizer, which the Yoga 3 11 doesn't. I'm also not sold on the one-piece convertible concept as I don't see the weight ever coming down much below 1KG.
See all the Core M-based laptops, 2-in-1's and tablets here.
There are two devices here that I'm personally very interested in. The Dell XPS 13 is looking like an amazing 1.2KG Ultrabook and at $799 (without touch) I'm already sold on it being a productive desktop-laptop. The second device is the Toshiba Click Mini which would make a superb replacement to the old Acer W510 and Lenovo Miix 2 10 that I have here. The tablet-only weight of 2.2 pounds is impressive for something that has a battery life of 16 hours.
Are you interested in any of the newly announced products or are you all waiting for Cherry Trail?