Bill Gates must be so happy today. The Microsoft Surface 3 has just launched with an Intel Atom X7 quad-core at $499 and with it, the TabletPC has reached a new landmark.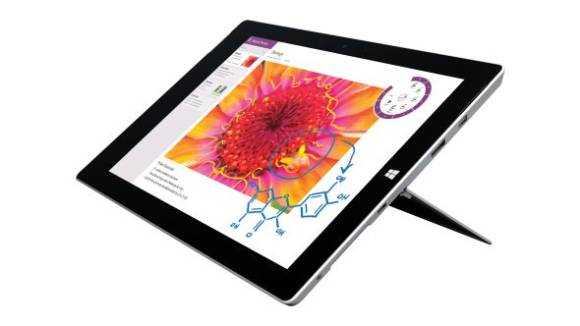 The Surface 3 takes the design of the successful Surface Pro 3 and squeezes it down into a 10.8 screen form factor and a 622 gram weight. This fanless Windows 8.1 (with free Windows 10 upgrade) tablet PC is also offering to do-it-all with the optional backlit Type Cover keyboard.  I think you'll see a bunch of cheaper options during 2015 but, like the Surface Pro 3, the Surface 3 is going to be an item that has quality on its side.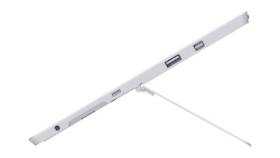 An LTE option is available ($100 more) and you can pick up 4GB and 128GB storage options too. There's also a USB 3.0 connector and USB 2.0 (micro for charging and data) so you've got mobile power and connectivity options too. There's no USB-C  port.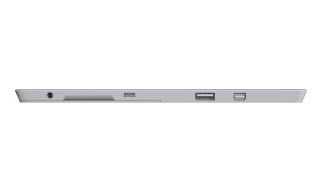 The storage will be eMMC based (Atom X7 doesn't support SATA) so you won't get the fast speeds of the SSD on the Surface Pro 3. It's going to be fast enough for daily consumption use, but you never know the limits until you run the tests. The other missing data-point is the Surface 3 battery size in Wh. '10 hours' video playback isn't really much to go on but I'll guess at 35Wh and 7 hrs browsing at this stage given what I know about the platform and its predecessor.
The stand has three positions (not like the Surface Pro 3) and the screen resolution is 1920 x 1280 (3:2 ratio) which should help it in the hands. The Surface 3 is just 8.2 mm thick.
Microsoft Surface 3 comes with one year of Office 365 and 1TB of OneDrive storage.
Microsoft Surface 3 Specifications (base)
More specifications, notes, videos and images here in our database.
CPU type: Intel Atom x7-Z8700 quad-core 1.6 – 2.4 Ghz with Gen 8 graphics.
Fanless
OS: Windows 8.1 with free upgrade to Windows 10
Display Size: 10.8″ 1920 X 1280
Screen Type: LED-Backlit LCD, wide viewing angle. Touch with digitizer support.
RAM: 2 GB (4 GB option)
Flash 64 GB (128 GB option)
Weight (tablet) 622gm / 1.37 pounds
Size 267/187/8.7 mm
Size 10.5/7.4/0.3 inches
Physical Interfaces:DC-in. Displayport (Mini), Line-out / Headphone (3.5mm), SD slot (Micro), USB 2.0 (Micro), USB 3.0 (x1)
Wireless Interfaces: 802.11ac, Bluetooth 4.0. LTE option.
Other: Accelerometer, Dolby Advanced Audio, Gyroscope, Microphone, Stereo speakers, Webcam 3.5 MP, Camera 8MP Auto-Focus
Optional: Backlit Keyboard, Surface Pen.
One has to assume that Microsoft are going to offer bundles with the dedicated Type Cover keyboard and Surface Pen in the future but for now you're looking at a minimum of around $650 for that set-up and that means it's not really a cheap option, especially if you think you might need (you probably will) 4GB of RAM. That option adds another $100 to the price.
There's also the question of Cherry Trail performance.  Microsoft have chosen a high-end version of the X7 and with the right eMMC storage it shouldn't be slow to respond but you won't be running desktop games on this and video editing/rendering is not exactly going to be barrier-free.
If you want LTE you'll need to budget for that ($699 with 4 GB RAM and 128 GB storage.) and you'll have to wait until mid June in the USA. That's 2.5 months away and a lot can happen in that time. Adding the pen and keyboard will take you up to over $850.
A list of 10-inch tablet PCs from our database.
The Surface Pro 3 has proven to be an incredibly versatile device and the ingredients seem to be there for the Surface 3 to be even better in the mobility department but at 10.8-inches the Surface 3 is a tablet-first device and won't be as productive as the Surface Pro 3 with the keyboard. We all know the compromises that come with a 10-inch screen / keyboard.
If you add in a bit of discounting and look at the Surface 3 as a mobile tabletPC then it makes more sense. The weight is right, the battery life could be right and there's bound to be a good community that builds around it.
Let us know your thoughts below. Were you hoping for an even smaller Surface? Waiting for a Surface Pro 3-M (with Core M) or are you waiting for a Surface Pro 4 with Broadwell-U?