I need your support to help UMPCPortal through 2015 and it into its 10th year of providing independently funded ultramobile PC information, reviews and news. This is a direct call for community support
UMPCPortal has been run by me since 2006. I love mobile computing and focus on quality news, reviews, how-to and opinion but this site is unsustainable in its current form. I've delayed this post for as long as I can but now it's time to call on direct community support.
The problem is that because of my passion for deep-level content I didn't pay enough attention to changes in the search-engine landscape, the ad-blocker effect, social media requirements, mobile UI requirements, headline trends, spam and hacks. Despite what Google say, writing good content that people want to read isn't enough to support a full-time blogger, even if you've got an understanding, working wife. [Thanks Claudia!]
The ceiling has come down on us and we need to put a lot of effort in to build it up again, or I close up shop. I'm asking for your help in donations or content to avoid that. You can also become a Patreon and get a direct channel to me for product Q&A.
The last month has been particularly tough. The pageview numbers have been terrible, the revenue laughable given the time I spend working on the site. Our product database works incredibly well in terms of eCPM but it's 80% dependent on our search engine visibility. UMPCPortal was hit hard by the joint affects of a spammy hack (I've worked to resolve three separate hacks in the last 2 months,) a bug (I lost days to a strange issue that ultimately required a re-install of the back-end) and what could be a Google algorithm change. The falling revenues from in-article advertising thanks to ad-blockers isn't helping either. UMPCPortal needs a 'runway' in order to take-off again. Please help build that runway.
Changes
UMPCPortal and it's content is over 9 years old. There are over 5500 articles, 24000 gallery images and thousands of product pages so when the site needs to pivot quickly, as it does now, it can't. In order to address the needs of the modern reader and the modern search engine we need to get rid of keywords like 'WiBrain' and 'HTC Shift' and 'XPTE.'  We need to create content for the mobile audience. We need to improve the security and performance of our server. We need to be more active and responsive on popular social networks. We should have an app. We need to start covering ultramobile PC gaming!
Help me and I'll answer your questions on Facebook
We've started already. Thousands of old article and gallery pages have been removed from search engines. Thousands more are going through the process. We've taken a look at our keyword and SEO landscape and have employed the SEO experts at Rheinwunder to help. We expect to dip in Q3 before we rise in Q4. Please help to build a bridge for UMPCPortal so we can reach Q4.
I need to pull together $5K to carry out the changes listed below and I will only be able to do this with your support. Donate, share and link from your private blogs. Tell your friends about the product database on forums and social networks. Comment below. Donate content.
Please follow us on Facebook and Twitter.
In return for your support I will do this
Create mobile-friendly, ad-reduced article content. [DONE! Enjoy UMPCPortal articles on your smartphone now.]
Improve the speed at which we add new devices into the database. [DONE! We've added a second product database engineer and he's great! Thanks Steve!]
Implement better product search, filter and sort tools. [DONE! See the product database summary and find your perfect mobile PC.]
Add headless (Mini PC) solutions to the database. [The back-end has been prepared and tested. If I reach $2K donations I will implement a full Mini PC database.]
Improve the mobile viewing experience for the product database.
Complete SEO audit and implement back-end and content changes to improve visibility in search engines.
Improve site security and stability (cut downtime)
Join me as a regular contributor on Patreon and I will be ultra-responsive with your ultramobile questions!
You can also help by buying products on Amazon through the product database. I'll get a small percentage of any purchase you make.
Thousands of people visit this site every day but I need to treble my current figures to make this site sustainable.
I think we can do this. My SEO expert thinks we can do this too. A few dollars from regular visitors would be appreciated. If you've taken advice and had a successful purchase, think about donating a few dollars more.
Q3 2015 content focus.
Here's what we'll be focusing on in Q3.
Working on Windows 10 tablet PC content.
Preparing for attendance at IFA in September.
Tightening the keyword spread. It's tempting to write about everything that interests me around mobile computing but I have to put some limits on that. The focus keywords could change after our SEO audit.
Creating another solar-powered ultramobile PC tour. (Sponsorship opportunity.)
Tech blogging is getting harder and I feel proud that this site has outlasted many others. The site isn't making a loss but it's not generating enough for a salary and certainly not enough for expansion.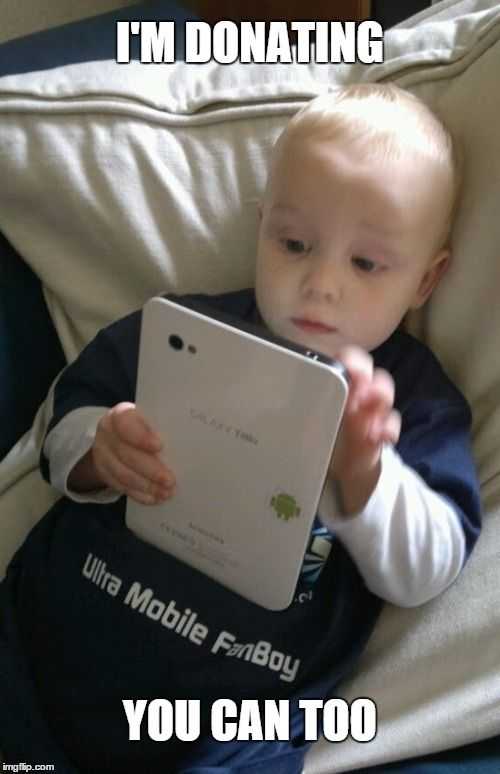 Paid content?
No. I don't feel comfortable putting up a paywall to regular articles. All i'm asking for is community support, and I know there's a good community out there.
Advertise on UMPCPortal.
Finally, if you want to advertise here I'd love to cut out the middleman and do some direct ad sales. Back in 2008-2010 we had ultramobile pioneers Raon Digital as a major sponsor of the site and it worked well. A new banner sponsor for the product database would really help. I can deliver country-specific ads if you need, too.
Thanks! Suggestions?
Thanks for reading this. Thanks for reading UMPCPortal. If you have any suggestions, now is the time to let me know. Either in the comment section below or via a private message.
Comment.
You don't have to donate. If you get this far, do me a favor. Give me a Yo! if you want to see UMPCPortal survive. Yo's are power-ups! (Sharing this article helps too!)