I've been co-working since late last year and it's been a great boost to my ultramobile life, both in, and out of the computing sphere. Cycling to work means I need to keep the weight down and when I take the bus I'm often encouraged to get off a few stops early and try a different walk-through which means I get to know my town a bit more intimately. My Lumia 830 is rarely out of my hand as I walk.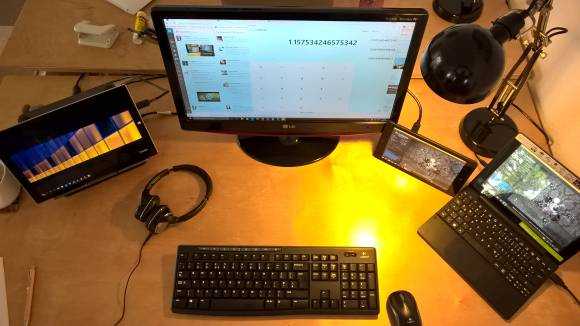 The core of my co-working desk is a USB 3.0 DisplayLink hub from Belkin. It includes a DisplayLink adaptor (ad, right) which connects to my monitor and lets me plug any Windows PC into the hub and get to work instantly with Gigabit Ethernet, keyboard and mouse. I often leave a USB drive in the hub too and it gets used as a Windows History destination, tracking file changes on multiple devices as I work.
My main PC is a Surface Pro 3 (left of main screen, on the USB dock) but as I test devices (the area on the right is usually for my review devices) then I swap them in and out of the dock. Right now I'm testing the Thinkpad 8 (Z3795, LTE) and the Acer Switch 10E. I'm loving the former but not loving the latter. More on that soon!
Obviously power isn't a major concern here and with AC WiFi or Gigabit Ethernet and a symmetrical 50 Mb/s Internet connection I'm good for data without having to worry about 3G or LTE but the bus and walk home needs some cellular love, mainly for local cameraphone photography. I rarely use my smartphone as a hotspot though, especially at the end of a working day so LTE on the Thinkpad 8 is perfect for that.
The point here is that you don't need a desktop PC. Ultrabooks and high-end tablets will serve you well all the way up to full HD video editing, tens of tabs on your browser and high-speed connectivity. A USB 3.0 docking station gives you docking flexibility and if all your PCs are ultramobile, you can carry them everywhere.
Co-working is a great way to test mobile devices and mobile internet.
The Microsoft Surface Pro 3 is the perfect hot-desking PC, if you've got a USB docking station.
A USB 3.0 DisplayLink docking station is a flexible way to manage multiple Windows or OS X PCs on a single desk position.
I'd love to hear about your working environments. Do you BYO to work? Do you have a big 'studio' setup at your home office or are you a co-working fan like me?