The ASUS T100HA has us quite excited. Not only is this 2-in-1 the latest in the successful ASUS T100 Transformer Book line but it's coming with the new Intel Atom Cherry Trail X5-Z8500 CPU and a 4 GB RAM option. The T100HA also includes USB-C but we've yet to confirm that it supports anything other than USB 2.0 data. Delivery could be as early as 2 weeks in Europe.
Update: Delivery soon in Germany. Hands-on video. Here.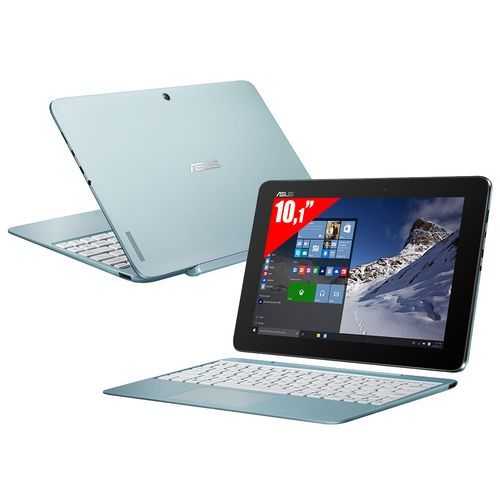 The entry-level version, T100HA-FU002T, is being offered for €299 in France (€239 pre-tax = $272) and that brings you 32 GB of storage and 2GB of RAM. The Atom X5 8500 goes up to 2.4 Ghz and will offer a 10-20% CPU boost and something around 50% GPU performance boost over earlier generation ASUS Transformer Books. There's a 64 GB / 2GB version (T100HA FU006T) among the online retailers but the interesting option is at €399 where you'll get the T100HA-FU030T with 128 GB of storage and that all-important 4 GB of RAM. It brings you a similar level of  performance and storage as the €699 Microsoft Surface 3.
Update: There's a 64 GB / 4GB RAM version for €349 which is an even better deal if you don't need lots of local storage.
Full specs, gallery and videos available in our database. More Atom Cherry Trail products listed here.
The Surface 3 comparison isn't quite fair as there's one big difference with the T100HA – it has a 1280 x 800 screen. Early specifications pin it at 350 nits and it's an IPS panel but the resolution is nothing compared to the 1920 x 1280 of the Surface 3. The T100HA has a slightly lighter total weight of 1.0 KG  / 2.2 pounds but the tablet weight seems to be up slightly over previous generations – 580 grams.

WiFi is a/g/n (no WiFi AC support.) Battery capacity is 30 Wh and battery life is claimed to be 14 hours. Be wary of that as it will be in a very lightweight video playback scenario. 6-8 hours of web-working would be my estimate.
As mentioned, a question remains about the USB-C port. Is it wired for USB 3.1 speeds or just USB 2.0 speeds? The Atom X5 platform supports USB 3 so let's keep our fingers crossed. The charging 'route' is also an unknown. It could be via the USB-C port, or it could be / also be via the micro USB port. It sounds silly but these things sometimes happen in the name of saving a few dollars.
Delivery dates range around the 2-week mark. 15th September delivery.
Despite the low screen resolution the ASUS Transformer Book T100HA could make the perfect travel 2-in-1 PC and in the high-end version should have enough power for some quality desktop work.
There's every chance that the ASUS T100HA will be at IFA in a few weeks. I'll be there to check it out.
The Amazon France pricing can be found here.