I was expecting the new version of the HP Pavilion X2 10 (n001ng) to ship with Windows 10 and Cherry Trail but it looks HP can't wait. It's available now in Germany for €299 with Windows 8.1, the last generation Atom Z3736F and, according to the specifications, a USB-C type connector. Update: Hands-on retail version below.
In some respects the new Pavilion X2 10 is a very interesting 2-in-1 PC. Of course it will get the Windows 10 update but it also has a Baytrail-T CPU that clocks to 2.16 Ghz and could be as powerful as the Atom X5 in CPU-bound benchmarks. It also has a wide form-factor which means there's a wider-than-usual keyboard included. The battery is large, a useful 33 Wh in a total of 1.15 KG weight.
The screen resolution is a low 1200 x 800 resolution but if it's a good quality IPS panel with high brightness it might be a match for the Acer Aspire Switch 10 E that I reviewed recently.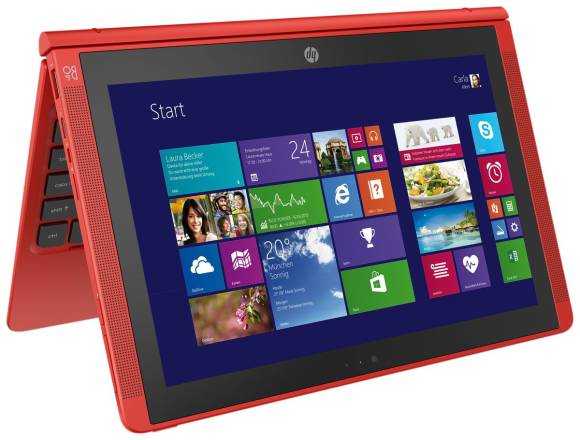 The best explanation for this strange set-up could be that there are delays with Atom X5 processors and that HP want to get something out for the back-to-school period. With the IFA trade show starting early next month we'll get a better idea then but for the meantime, this looks like a reasonable deal.
Update and opinion: It's true. Baytrail-T with USB-C charging. (I checked it out in a local shop.)
The keyboard is well-spaced and solid but it's a very light-touch keyboard. That would work well for me but others might require more feedback. Compared to the Asus Transformer Book it's the same width but has square keys. The touchpad is light but doesn't seem to have multi-touch capability. The screen is 1280 x 800 but it's bright, has good viewing angles and has, to my eyes, a good color range although perhaps not as good as the Acer Switch 10E which this competes very closely with.
There's a TPM inside (Bitlocker file encryption should work) but no GPS.  The battery capacity is 33 Wh. (The Acer Switch 10E has a 30 Wh battery so there's only 10% difference there.) Note that it's only ever had one charging cycle. The HP Pavilion X2 10 030NG was €299 for the 32GB / 2GB version and I beleieve it comes with Office 365 for one year. Overall the casing was solid and fitted well. The hinge was strong but didn't go back very far. The tablet-only part is light enough for some casual use.
There's little to choose from between the Acer Aspire Switch 10E and the HP Pavilion X2 10. Both have good keyboards and screens, good battery life and light-weight although the HP looks and feels a bit nicer and less plasticky. Both have a full-size USB port but the Pavilion has all the ports on the tablet where the Switch 10E has the USB port on the keyboard. Weights are almost the same. Both should update to Windows 10 with no problems.