I'm bullish on HDMI PC sticks  for a number of reasons. Windows 10 is the first; Moores Law is the second. Two new sticks being offered by the Chinese ODM Szapec are a step forward in the latter. Specs and analysis below.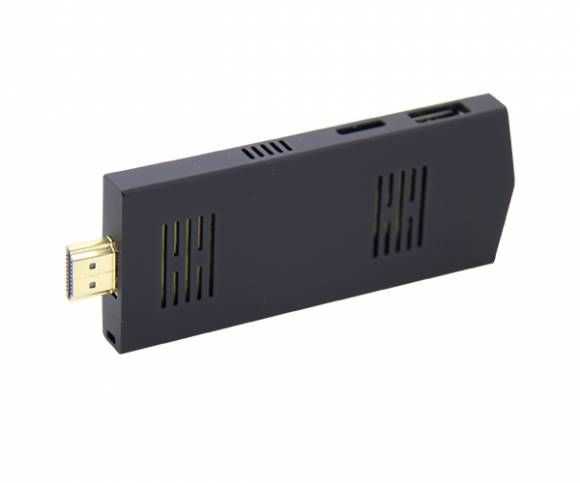 The Szapec APM-D05F looks very similar to the Intel compute stick but includes a Cherry Trail processor inside. An Atom X5  Z8500 is the mid-range model that is similar in CPU performance to the high-end of the outgoing Baytrail-T models. GPU power goes beyond what any Atom Z37xx can offer. Interestingly Szapec are listing storage up to 64 GB of eMMV5.0. As far as I'm aware the processor only supports eMMC 4.5 so be aware of that.
Szapec APM-D05F specifications.
CPU: Intel Atom Cherry Trail x5-Z8500 CPU Z8500 4C/4T(14NM) 2MB L2 Cache 1.44-2.24 Ghz
GPU Intel HD Graphic,12EU Gen8LP 600MHz
RAM: 2 GB DDR3L 1600
Storage: eMMC5.0 32GB/64G
OS: Windows 10
WiFi: 802.11b/g/n Wireless
Bluetooth: BT4.0
Ports: HDMI, 2 x USB 2.0, MicroSD, Headset
Power: 1 x MicroUSB
HDBlog IT is reporting that a 100 unit order costs $115 per piece and a 3000-unit order is $105 per piece. More about the costs below because these are FOB, export prices. Shipping, storing, marketing, support and profit has to be added to that.
The second Szapec PC stick, APM-D05i,  is confusing as it has a consumer IR port…on a device that sits behind a screen. The form factor is described as an "Ultra-mini PC–Windows BOX" and there's only one image…which doesn't show the Ethernet port it's supposed to have. Interestingly Szapec are also listing an "Ultra-mini PC — Windows Box" with the same specs and a different form-factor so we suspect they've just cut and pasted the same specs. The image shows a larger build. It's possible there's an Ethernet port and cabled CIR port on the other side: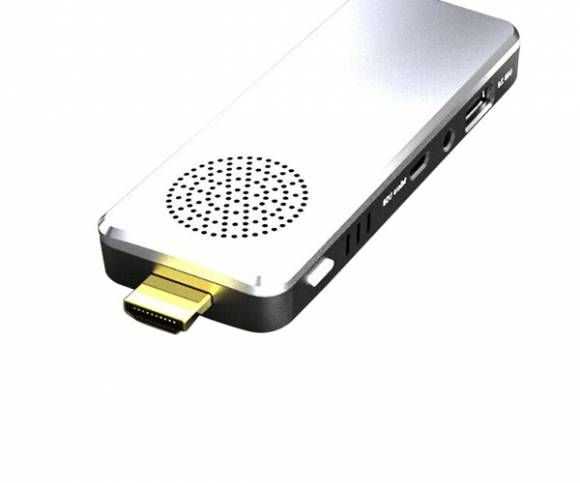 ODM products can change all the time so anything could happen but here are the current specifications at the website. We hope that these specs get updated because a 4 GB RAM version would be nice to see.
Current PC stick alternatives.
ASUS have already announced an Atom X5-based Vivostick but we haven't seen too much detail on that yet. My hands-on is below and it gives a feel for ports and design. At $119 (announced price) it's going to be an interesting competitor. The Archos PC Stick [hands-on here] might have a problem with its 'old' processor at a similar price. Archos' €119 Euro price is about what we expect the ASUS Vivostick to retail at in Europe but Archos told us that this could be a 99-Euro product when we asked them at the IFA trade show recently.
Talking of pricing, let's also mention Fusion Micro – the worlds smallest 'supercomputer' that I raised a few reg flags on a while back. These guys were offering their Cherry Trail PC stick at silly prices originally but have now settled on $150 for a 64GB / 4GB version of their product which is more realistic. They still have terrible marketing in my opinion (photoshopped images, wooly text) but as I suspected, these guys could be working on bringing an ODM version to the market via their campaign. This Szapec product could be it. The IndieGoGo project has raised $50K so they've got enough to order a big number of products. Fusion Micro has promised new videos soon so again, stay tuned.
Why Windows 10 is good for PC sticks.
DIAL. It's the Netflix-created protocol that Chromecast supports for remote startup of applications. Amazon Fire TV supports it too and with Windows 10 you'll also get DIAL support which means that if an application supports 2-way DIAL you can control it on a remote PC from any other Windows 10 PC without using Miracast. It's a much more efficient way of casting and easier than having a Bluetooth keyboard connected to your home-theatre PC.  [More on DIAL vs Miracast vs DLNA here.] If developers get the concept that any windows 10 PC can start their application on a TV-connected stick that's tending down from $120 then it could be a winner. When Windows 10 Mobile launches watch the Microsoft Groove Music and Film and TV apps and, of course, the Netflix app for 2-way DIAL support. In the meantime, here's that ASUS Vivostick and a look at the Intel Compute Stick compared with other mini PC options.
Szapec APM-D05F info via HDBlog Italy.