My full review of the HP Pro Tablet 608 G1 is now available on Notebookcheck. It scored 78% which is good, but, not that good. The docking station and USB-C port, screen and build quality are excellent but there's one thing that's not quite right.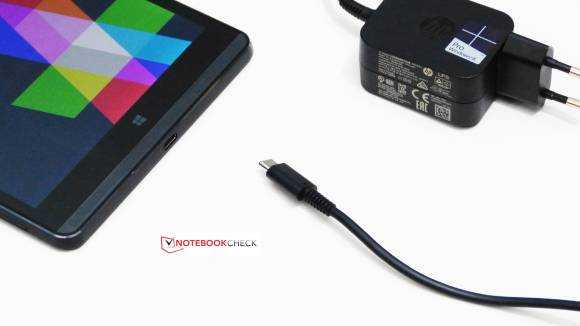 Starting with the screen I must say it's the best screen I've ever seen on a 7-8 inch Windows tablet. It's bright, tight and the colors are excellent. It's a Sharp IGZO panel and I'm pleased that I've finally had the chance to test one. It seems to be efficient too because in a video playback test at 150 nits I saw just 3.3W of system power usage. That's good but unfortunately there's only a 21 Wh battery inside which, for this weight of tablet, isn't huge. The weight also gives me a hint that it's tightly packed inside and when I looked at the sensor and comms, which includes 2 x 2 AC Wifi, LTE, GPS, NFC and more, it's clear that a lot has been included…which brings us to the issue.
The HP Pro Tablet 608 G1 heats up quickly. A measured maximum of 51.7 degrees is too much and that hotspot is right under the left hand when holding the tablet in portrait mode. The warmth tells us something else too. Thermal headroom is small and it means Turbo Boost just doesn't get a chance to run as it should. This Atom X5-based tablet (Z8500, the high-end Atom X5 version) will give you the same performance as previous generation tablets based on the Baytrail-T which is extremely disappointing.  The GPU rarely gets up above 400 Mhz to its 600 Mhz peak which wastes all the goodness in the new GPU in my opinion.
It's possible I had a bad build here (maybe someone on the production line forgot to install a heat-spreader for example) so keep an eye out for other reviews to see if there are big performance and temperature differences.
I tested a Windows 8 version of the HP Pro Tablet 608 G1 and didn't attempt to upgrade to Windows 10 based on some feedback I had about a problem. I haven't looked into this so can't tell you any more but HP are offering the tablet with Windows 10 so I assume all the drivers are available and it's just an inline upgrade that's the issue.
Check out the full review on Notebookcheck where I've included the lab test results for screen and heat along with the usual set of performance results, images and summary.
Other notes:
USB-C port not good if you don't have an adapter cable. (None supplied in-box.)
eMMC 4K write speeds very disappointing.
Windows 8 Pro installed
Nice design and 4:3 format screen
Intel AC WiFi support is fast when close to a hotspot
Digitizer not tested
I've also produced an overview review video that you can watch below.