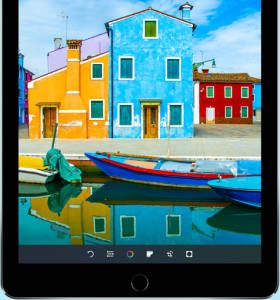 The iPad Pro 9.7. I had to laugh a little when I saw it on the Apple event stream. Pen, keyboard, ultramobile and 'the future of PCs.' Maybe. Maybe not. Over the years of writing at UMPCPortal there's one thing that's for certain – 10-inch screen sizes don't work well for keyboards and therefore don't fulfill the full set of user requirements for a PC.Despite that, the iPad Pro 9.7 is one pretty impressive UMPC. At 437 grams it's potentially one of the most powerful 'PCs' per kilo you can buy.
I'm impressed with the iPad Pro. The pen input is class-leading and the screen, if it's anything like the one I saw with the 12.5 – inch iPad Pro, is going to be stunning. I love the idea of tuning colors to ambient light temperature too.  The USB port adapter is interesting and although I haven't done much work with the iPad Pro since it launched, the applications that are being developed for it show that there's traction here. It's highly likely that it's pulled software vendor resources away from Windows development and that's a stranglehold that could have big consequences.
When the iPad Pro came out I said it would create creators, and it has. The price is low and the apps are looking impressive. I'm very, very close to being more than pro-Pro by putting it on my wish-list. I'm certainly looking forward to doing the video review for Notebookcheck.
Performance is going to be impressive. We're talking about levels of CPU and GPU power that rival the early Core-based Ultrabooks but if you add in the advantage of slim, optimized applications and the community that you're stepping into it's probably the most powerful creative tool out there. The accessory ecosystem is going to be great and there are signs that Apple are opening up to flexible accessory options via a USB port adaptor. "Then you can connect USB peripherals like hubs, Ethernet adapters, audio/MIDI interfaces, and card readers for CompactFlash, SD, microSD, and more."
Can Windows tablets ever offer this level of creativity? With a poor choice of apps in the Windows Store and creative desktop apps costing hundreds of dollars you wonder how long the Windows-based PC is going to survive. Don't get me wrong, I love my Windows laptops and tablets but I know that if you're stepping into the PC market as a smarthone-wielding youth you're probably going to look fondly at the iPad Pro. $599 doesn't buy you a laptop with that much power, speed, mobility and style.  High-end Android tablets have a problem here too.
So the 9.7 inch form factor might not be good enough for full keyboard-based productivity but it might be good enough. I remember when we 'accepted' netbook keyboards because the laptops were so damn cheap. The iPad Pro might be accepted because it's so damn cool. And it is cool.
When the iPad Pro launched I got a little closer to wanting an Apple product. The iPad Pro 9.7 brings me even closer. I guess that was the idea behind it!