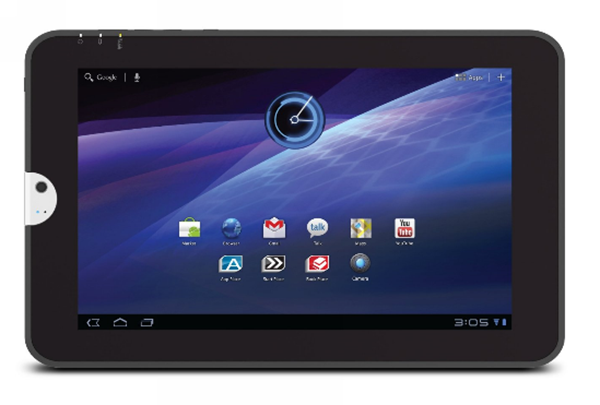 Toshiba has recently jumped on the Android 3.1 Tablet bandwagon with its Thrive offering that is now available for pre-order on amazon.com.
See full specs, links, and more info on the Toshiba Thrive in our device database.
The Thrive has a 10.1 inch screen @ 1280×800, flash support, 1G RAM, dual-core Tegra 2 processor and comes with Android Honeycomb 3.1 as its operating system. There are two cameras: a 5MP back camera and a 2MP front facing camera for video conferencing.
Before we all throw our hands up in the air and moan about "yet another wannabe 10.1 inch Android tablet inch, bear in mind that Toshiba is well known for designing and making quality, sturdy laptops and this tablet looks very solidly constructed and would seem like it can take a knock or two!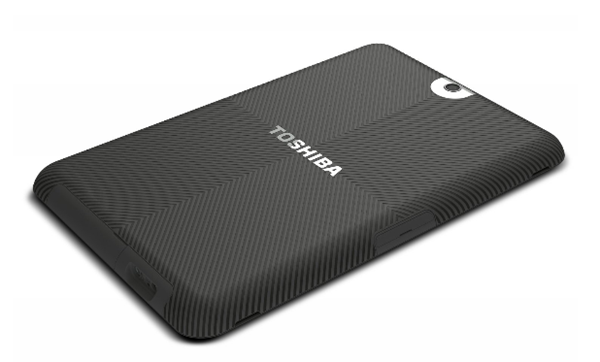 Having look at the back cover (pictured above), it is made of Easy Grip surface which is textured and looks like it'll provide you with a great non slippery gripping experience.  The cool thing is that this Easy Grip surface is replaceable and you can customize the surface with different colored skins if you wish to stand apart from the crowd.
Here's more good design Toshiba has thrown onto the Thrive:
1) Replaceable battery – I am always a fan of tablets that allows you to replace a worn out battery or carry an additional to extend your road warrioring hours, so big brownie points for Toshiba for this!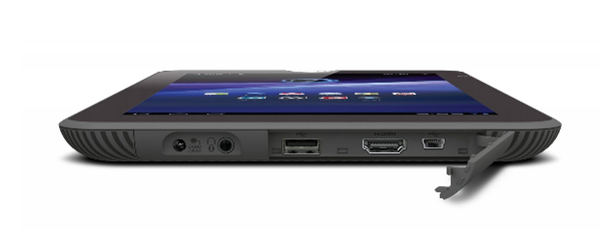 2) Connectivity ports galore (picture above) – the Thrive comes with SD slot, mini USB, full sized USB 2.0, and a full sized HDMI out, again, another standout inclusion. I really like that the two most commonly used connectivity interfaces are full sized and you don't have to hunt around for mini or micro HDMI cables (eg, Acer Iconia and the Asus eeePad Transformer). There's even a dust cover to protect the slots when not in use. Lack of ports is one of the biggest threats to the HP TouchPad.
The Thrive will come in three models, for the budget conscious: 8GB ($429.99), 16GB  ($479.99), and the top of the range 32GB ($579.99). These capacities are currently available as WiFi-only but Toshiba has said that they will be releasing the 3G or 4G versions shortly.
Toshiba has certainly made the effort to ensure that the Thrive tablet doesn't become 'just another 10.1 inch tablet' with some great attention into its design.
The ultimate sacrifice that manufacturers, such as Toshiba, are making by offering full sized connectivity interfaces and replaceable batteries will be the size and particularly the thickness of the device — it can never come close to being as wafer thin as the iPad2.
Still, the Thrive may win the hearts of road warriors like me that need a productive tablet that can interact with other devices and peripherals.