Right on cue with recent reports from "insiders" and "people familiar with the matter", Apple has gone ahead and sent out invitations to media outlets announcing a March 7th media event where the company will unveil the iPad 3.
Of course Apple had to announce it in the middle of one of the largest annual mobile tech trade shows, Mobile World Congres, which is going on right this very moment in Barcelona. Most major TV news outlets in the US are likely to be entirely unaware of the event, but I'm willing to bet there will be several mentions of Apple's event announcement (read that again: you'll see news covering an event announcement rather than a huge event in itself, just because the announcement is from Apple).
To honor the folks that, no doubt, spent a good deal of time and trouble preparing and reporting on all of happenings at MWC (from those who designed devices, to PR people, marketers, journalists, etc.), I'm going to open this post first with a list of all the exciting stuff we've seen so far from MWC. If you want coverage about Apple's event announcement, it's tucked neatly away at the end of this article.
Exciting Announcements from MWC!
And now on to your regularly scheduled content: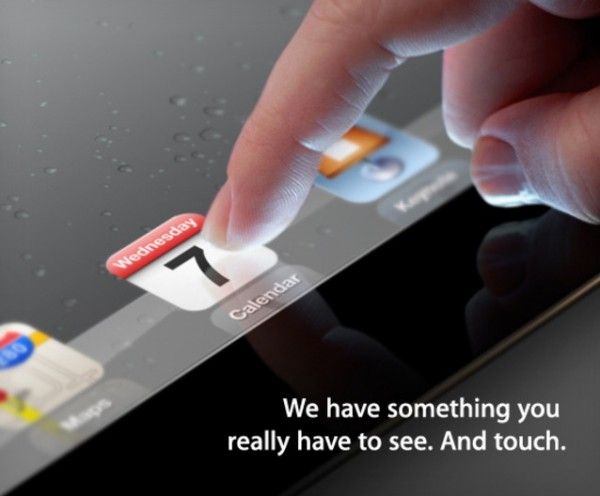 The high resolution iPad 3 retina display (2048×1536), that made the rounds a little more than a week ago, has all but been confirmed at this point; any iPad original or iPad 2 owner will be able to tell you that the text and icons as seen on the iPad shown in the invite is far sharper than that of any iPad released thus far.
Apple's typical clever symbolism is also present in the invite photo; you can see the date on the calendar icon as March 7th, the location with the map icon is (as always) Apple's famous 1 Infinite Loop, Cupertino address (though the event is actually going to be at the Yerba Buena Center for the Arts), and the Keynote icon is obviously a reference to the presentation that will be given. The time for the event is 10 AM PST (1PM EST) as usual.
We don't know much more about the iPad 3 than the high-resolution display and that it will have a similar case to the iPad 2 (possibly slightly thicker). Some accounts say it will be running a new quad-core A6 CPU, while others contest that it will be an updated dual-core 'A5X'. I speculated back in July of 2011 that the iPad 3 would be the first iPad to include 4G LTE and I'm still sticking with it. I also recently prepared a list of what Apple would need to include in the iPad 3 for me to justify adding a 'third device' to my life — I doubt we'll see much of what's on the list, but you never know!
If you're looking for rampant speculation (always popular with Apple topics), let's take the invitation text, "We have something you really have to see. And touch," out on a ridiculous limb: Something we have to see? Well, we wouldn't be able to tell if it is a glasses-free 3D display from a 2D photo, so perhaps that is in store in addition to the retina display? And something we have to touch? Maybe Apple has come up with some revolutionary tactile display technology that allows you to 'feel' on screen elements?
In all likelihood, this will be an incremental increase, without anything too wild, which will further solidify the leading tablet on the market.