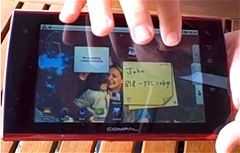 Last time we caught up with Bob Morris, Director of Mobile Computing at ARM, we spoke at length about consumer tablets and smartbooks, the software stack and what would attract a customer. I also asked him how significant the 'smart' device category was. At that time he said it was 'extremely important.' I'm guessing that after just 3 months, the category has even more weight within ARM to the point where it's on the critical path.
In this interview, Bob talks to Stacey Higginbotham of GigaOM around the 7 inch Android-based prototype from Compal and poses the question, "What makes [tablets] hot and useful? inch Price-points are mentioned along with 1080p video, 3G and battery life over 10 hours. He also talk about 'single pin number' payments through another ARM technology that provides 'ATM level security.'
I just can't help thinking back to Origami when I see that tablet.