Brad Linder over at Liliputing has spotted a device on it's way through the FCC that appears to be a new device made by Fusion Garage, the company responsible for the failed Joojoo. Fusion Garage's first device, the Joojoo, didn't quite take off because it failed to deliver on many of the objectives that the project set out to conquer (cheap/easy to use/good battery life). The device wasn't on sale for very long, and excitement for the product quickly died thanks for unfavorable reviews. It's somewhat amazing that Fusion Garage is trying this again. The new device, which is called the 'Grid10' according to some of the FCC documents, is described as a "smart mobile tablet PC inch by Fusion Garage in documents that they submitted to the FCC. Fusion Garage also requested that photos of the product be kept confidential (standard practice for companies submitting devices to the FCC) until November 30th, which means the device will either be launched/announced before that date, or we should be able to get a glimpse at it if Fusion Garage hasn't yet made any official announcements.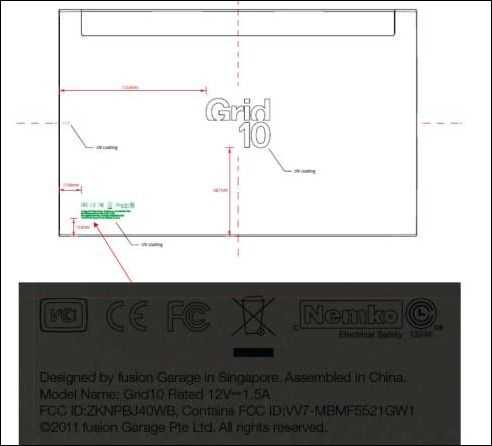 Liliputing was able to save a photo of the label location diagram of the Grid 10 (above), which also featured a logo of the products name on the back, though today it appears as though Fusion Garage has submitted a new version of that diagramwith the logo removed. Testing documents indicate little about the device except that it has Bluetooth 2.1 and WiFi BGN. One portion of the report seems to indicate that the device is equipped with voice and data modems in both CDMA and GPRS varieties which means just about all carriers should be covered.
The 'Buy' tab on the Joojoo site currently reads:
We are looking ahead to our next generation of devices of varying screen sizes. Stay tuned here for more information about these exciting products in the first half of 2011.
We're already past the first half of 2011, so either FG is behind schedule, or they've dropped the project entirely. I suppose we'll find out one way or another what they've got hiding in the FCC on November 30th.