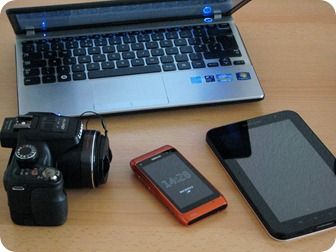 CES is just days away and I've just finalised the kit-list for my Ultra Mobile Reporting Kit V11. I'll be there for the week and focusing on Tablets, Netbooks, Ultrabooks and, if I find anything, UMPCs.
2011 was a year of change in the way I did reporting for my websites Carrypad, UMPCPortal and Ultrabooknews. The Samsung Galaxy Tab gave me more mobility than I had ever had and the Nokia N8 gave me less reason to use a dedicated camera for photos and videos. My last test relied on just those two items for everything.
Towards the middle of 2011 the realisation that YouTube was one of my most important revenue channels led me towards a better quality 720p editing set-up. A series of tests and articles posted here on UMPCPortal gave me an indication that Core i5 Sandy Bridge processors could bring some major advantages for 720p video work. Intel Quick-Sync video hardware and some excellent software from Cyberlink in Media Espresso and PowerDirector sent me on the search for a new camera and in  October I settled on the Panasonic Lumix FZ150, a bridge camera that gives impressive low-light camera and HD video results along with relatively lightweight hardware for a camera with a long-zoom lens and a rotating display. After testing some Ultrabooks I actually took the Samsung NP350, a 1.4KG 12.5 inch laptop that runs a 2.2Ghz Core i3 and holds a 60Wh battery. Compared to my previous netbook (Gigabyte Touchnote) it's the same weight but a gigantic step forward in processing power. Even battery life is better so I'm happy that it will work well when on the road.
Here's the detail on the kit-list:
Samsung NP350 Notebook
A 1.4KG (3lb) notebook running a Core i3 CPU at 800Mhz-2.2Ghz with battery life ranging from over 8hrs (typing) to 1hr (gaming.) It has a 12.5 inch 1366×768 matt screen, 600GB hard drive, good keyboard, Intel Centrino Wifi module with Wi-Di, SSD, fast-start, HDMI, VGA, full-size SDHC and 2 USB2.0 ports with sleep 'n charge. There's no backlit keyboard, SSD or USB3.0. Cost – €430 before taxes.
I'll use the NP350 for 720p video conversion and editing and sit-down article composition, data storage, mass photo upload.
Panasonic Lumix FZ150 Camera
12MP, 24x Zoom, hot-shoe, rotating display, full HD (plus 720p) in MPEG4 or AVCHD, external mic port, HDMI-out and some impressive low-light performance for a compact-size sensor. Weight is just over 500gm. Price around €500
The FZ150 will be used as a 720p video device and camera. I won't be using 1080p quality as it's overkill for the quick hands-on videos I post to YouTube, especially as YouTube compresses the hell out of 1080p!
Nokia N8 CameraPhone
A Symbian-based phone with high quality camera, Xenon flash and 720 video capability. Long battery life.
The N8 will be used as phone, SMS, calendar reminder and for quick photos (including evening/people/party) that I'll put up on Twitter, Facebook and other channels. It will remain on my European SIM card with no data capability while at CES. Images will be transferred to the Galaxy Tab via Bluetooth for sending to various social channels when needed.
Samsung Galaxy Tab Android Tablet
At over one year old, you'd think that there are many better 7 inch tablet solutions out there by now but the Galaxy Tab 7 is still up there as one of the most usable 7 inch tablets on the market. I'm looking to upgrade when ICS is available but the original Galaxy Tab 7 will be fine for CES work. There won't be a SIM card in it for data or voice but it will be connected to my Clear MiFi unit as my 'always-on, always connected' component. I suspect i'll have some mini blogs going out through this as well as Tweets, Facebook posts and Google Plus posts.
Clear MiFi + Power Pack
Not shown on the picture are a Clear 4G MiFi unit (rented from Event Radio) and a small USB power-pack that I hope will sit in my bag and provide me with a moving cloud.
The kit weight is going to be well over 2KG once the tripod, cables and spares are added and it's more than I would like to be carrying but for a 720p recording and editing suite and always-connected mobile and social set-up, it's not far from optimal.