Over the years since 2006 the definition of a UMPC, and Ultra Mobile PC, hasn't changed much at all. In 2006, this was the definition of a UMPC: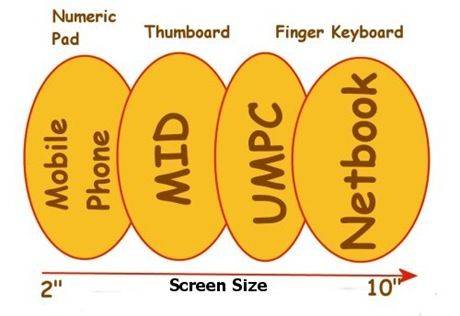 A highly portable computing device with 5-10″ screen, wired and wireless connectivity that is able to load and run common internet, office, media and pim applications operated through a graphical user interface.

June 2006
'PIM' was the term used at the time to define a relatively new area of Personal Information Management. Address books, calendars, todo lists and email. It's a normal, expected part of every basic mobile phone these days but back there there we're huge problems. Cloud storage and synchronisation was a risky business.
By 2008 we had the netbook and the MID brands being pushed around. The netbook was a successful one. The MID, not so, although it is, effectively, everything that a Samsung Galaxy Note is today.
In 2008, we considered the new terms and whether the search trends for UMPC were sustainable.
We also published the UMPC buyers guide. A 4-part deep-dive into the technical and usability aspects of a UMPC.
2019 UMPC
We've written more about UMPCs for 2019 but here's a summary.
The early definition of a UMPC almost exists in every 5-inch smartphone today but there is one key problem that hasn't solved. Desktop-usage. The idea of a single device that could run all daily communications and computing requirements hasn't been fulfilled. Desktop modes on mobile operating systems are lacking, and Windows 10 on a 5-inch screen is, despite some amazing steps forward in UI, isn't quite the fulfilling app experience as it should be. In addition, there are few products that include Windows 10 and a small screen. The fact there there is no longer a competitive Intel ultra-mobile platform doesn't help.
We still define the UMPC as a 5-10-inch device. The important difference between a UMPC and a mobile phone, even a large one, is the dasktop capability. While one can adapt to app-focused processes there's still now more productive way to work than with you bum on a seat and with a PC, with all its productivity and expansion features.
UMPCPortal started reporting in 2006. Read a history of UMPCPortal and UMPCs, including new topics.