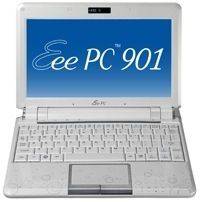 There's no doubt that the low-cost netbook trend will affect pro-mobile sales. It's likely to affect laptop sales too. People in the industry are already hinting to me that they have problems. OEMS can't price and position pro-mobile devices with confidence and specialist resellers have problems choosing which devices to stock. They don't want to be left with a shelf full of out-of-fashion netbooks. There are still a few areas where netbooks can't compete with UMPCs; built-in 3G, size and weight advantages, touchscreens, alternative form factors and rugged builds which can drive some good high-margin sales but when a well known brand comes along and offers a device with reasonable mobility advantages, a known quality-level, huge battery life, built-in 3G and a great price, you have to wonder how customers, OEMs and resellers in the mobile PC market will respond. [More of my thoughts about netbooks causing industry problems in this article.]
Article continues…
The T-Mobile / ASUS Eee PC 901Go is the device that's constantly in my head now as I look at MIDs and pro-mobile PCs now. It's a product that has moved from the consumer netbook area right into pro-mobile territory by offering a relatively small size an weight, great battery life and offering mobile Internet connectivity built-in.  If it was pro-mobile priced you'd think twice, but it's not. The ASUS 901Go is going to be offered for free with a 10GB / 25 Euro per month data contract; on one of the best country-wide 3.5G networks in the world! It's almost a no-brainer in a market where MID products are delayed, smartphones are getting better and there are limited numbers of good-quality, pro-mobile choices. Upgrade to Windows XP on the 901Go and you've arguably got the dream ultra mobile PC that many of us talked about 2 years ago. Cheap, 1KG-class, keyboard, SSD, good screen, 3G and available. Back then, you would have been looking at $2K+contract for this and now it's FREE!
Exklusiv bei T-Mobile erhalten Sie in Kürze den "bislang besten Eee PC"
(vgl. deutsche Testberichte) um sagenhafte 0 Euro inklusive eines
Datenvolumens von 10 GB pro Monat um nur € 25,- pro Monat. [Source. Via.]
In this early-stage MID and mobile computing market that's also affect by some economic instability this device gives much of what's needed while saving significant amounts of money and allowing people to wait to see how the MID and ultra mobile PC markets pan out. Businesses will be able to reduce capital outlay by switching over to the 901Go. Consumers can jump on the mobile Internet wagon at zero-cost and those waiting for a MID can save money simply by carrying a slightly larger bag for another 2 years!  Why chase the perfect mobile device strategy in the early part of the market when you could literally save hundreds and hundreds of Euros by making a few sacrifices, wandering down to the local T-Mobile shop and signing up for a 901Go?
The 901Go is now in the database
How are OEMs supposed to react? If you're pushing a consumer-focused mobile PC product into an unstable market (I'm thinking about WiBrain, Raon Digital, Viliv, Archos, OQO, Flybook and others here) and you need to sell 20,000 units at $700 RRP just to break-even, you're left with the choice of making your product a loss-leader for your brand (if you're a risk-taker, confident that the device is a high-quality item and that you've got enough money to be around to make money in a more stable economy in the future) or pulling-out completely. OEMs How do you see yourself competing against a 901Go? How can resellers compete with carriers?
The price of the EeePC 901Go might be great for consumers and offer a good money-saving alternative to their ideal device but it, and the other netbooks that are bound to follow into the 1KG-class market really could be a killer for many in the pro-mobile industry unless they take risks and drop prices now.
Note: The T-Mobile that I'm referring to here is T-Mobile in Germany (The parent company of T-Mobile USA.) T-Mobile USA are not carrying this device as far as I know.