Michal Jerz is clearly happy with the Nokia N900 he's testing and yet I still remain somewhat unconvinced as I read through this detailed article. Maybe the N900 really is this good with web page zooming – "No reloading, refreshing, waiting for the new part to render" and a "BEAUTIFUL user interface." but maybe, coming from the Smartphone world, Michal hasn't got the benefit of experience on a 4.8" screen running a fast SSD, Atom 1.3ghz and Firefox.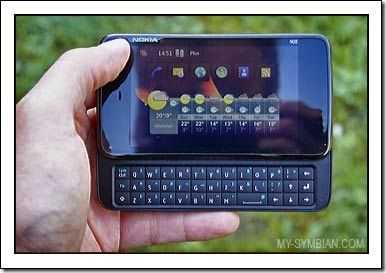 Clearly the N900 is going to be a fast and smooth web-focused device and I dare say it will blow away my own Omnia Pro smartphone which is quite limited in the ARM11-powered, Opera 9.5  browsing department but there are still questions. Despite what Michal says, its a fat  smartphone and, exactly like my Omnia Pro, is neither the perfect size for 24/7 pocket use or the perfect size for mobile web activity. Just like the N810, you'll find yourself having to zoom in on full page web just to read the text. Michal doesn't mention battery life either.
At 600 Euros for a new platform it seems a little expensive and a slightly risky investment for the average user, especially with the 32GB Archos Android Internet Tablet out there on the same Ti OMAP 3 platform (wifi only) for half the price, but for mobile web-focused and convergence fans it remains a top choice.
My-Symbian. Full N900 Preview. (Via Maemo Talk)
Nokia N900 information and links.
UMPCPortal will be at the Maemo summit on the 9th-11th of October.