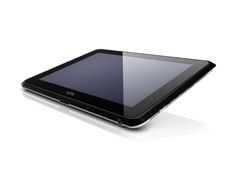 CeBIT is a very traditional, business-like show. Suits dominate and after-show parties are few and far between. Companies like Microsoft often present purely business-focused products and strategies and if you're expecting another huge pile of consumer tablets, you're probably going to be disappointed.
For readers of UMPCPortal, our pro-level site (that has, I admit, been pretty dry on news lately) it's good news because products like the Fujitsu Stylistic Q550 get a chance to shine.
We've got the full, official specs in the database now and wow, this is not your average tablet PC.
 Full specifications, links etc. Fujitsu Stylistic Q550 TabletPC
A 400-nit screen IPS screen, 2GB RAM, remote security, capacitive/digitiser input, fast-charge, removable battery options, 4 USB ports, Gobi 3G option, SSD, docking port and an array mic are just some of the advanced features you'll find which indicated a pro-level, industry focused solution. It also gives you clues to the price.
The price isn't available right now but the Q550 has already launched in Japan with a availability stated as March/April. A CeBIT launch is also planned and we hope to get a pricing indicator next week. A guess around the 1000 Euro mark for entry-level configuration is probably not far off.
Note that there's a lot of talk about 8 hours battery life but a Fujitsu sales site in Japan makes it clear that this is with the extended battery (38wh) in a JEITA (largely idle) test. Take 30% off that for real world figures. With the standard battery, a 19wh unit, you're looking at 3.5hrs max. That isn't going to impress many but at under 900gm for a 10" PC, it's good.
We hope to get some good testing time in with the Q550 and bring you information on graphics, SSD speed and more battery life thoughts.
Hat-Tip: Gottabemobile