This open gaming handheld reminds me of the WiBrain B1 UMPC. Its got some great specs but the physical implementation looks a mess! It's the latest incarnation of a design targeted at gamer/developers wanting to run gaming emulators. Based, spiritually on the GP2X, there's very little focus on Internet connectivity an even less on mobile Internet connectivity (no Bluetooth, 3G) but the interesting thing is that the core hardware could form the basis of an interesting mobile Internet platform. Its being called 'Pandora.' [Wiki] Here's an early prototype rendering.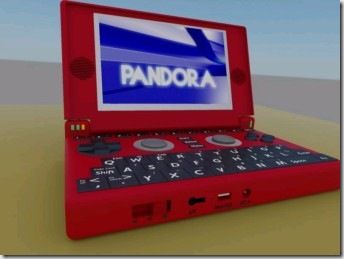 The hardware is designed around a Cortex A8 CPU which is a RISC design and, according to what I read, will enable raw processing power equivalent to the new mobility focused X86 CPU's like Intel's Silverthorn CPU.
As the first product in TI's OMAPâ"¢ 3 family of applications processors with the ARM Cortex-A8 superscalar microprocessor core, the OMAP3430 delivers up to 3X gain in performance over ARM11-based processors. The new processor leverages industry-leading technologies to provide mobile phone battery life together with the performance needed for laptop-comparable productivity software and an audio-video experience equivalent to that of consumer electronics devices. [TI PDF]
With an 800×480 screen, keyboard, Wifi and expansion ports it will be interesting to see what sort of performance it reaches running Firefox and what sort of battery life it returns.
I'm doing a lot of reading on Cortex at the moment so if anyone has any pointers to other Cortex-based projects or reading material, please let me know and i'll add them to my watchlist.
Via Engadget and a tip from TSO, thanks!