A couple of reports have come in over the last few days about pre-order and availability for the Gigabyte M704. The M704 is basically a 1.2Ghz version of the slider U60 ultra mobile PC with an LED-backlit 7", 1024×600 screen but it's also available under other brands. Its actually made by Flextronics (previously Arima) in Taiwan.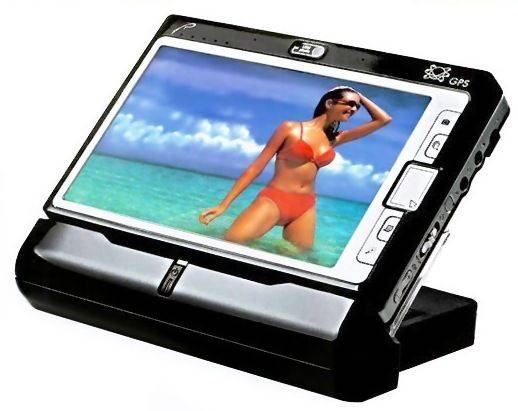 Image of from Rover computers (Russian)
The Gigabyte M704 info originally leaked through a Gigabyte website error last year but was quickly taken down. Since then it's appeared in Russia (as the Rover A700 for around $1000,) in Israel (site in Hebrew but I'm informed that it's going for about $US910) in Spain (as Ahtec X70GT for around 700 Euros) and now for pre-order in the UK (aff.). I spoke with my contact at Gigabyte yesterday who confirmed that the 704 will be ready to ship in mid May although the price isn't yet available. [This is normal, look to resellers for real prices] The full specifications have been released though and I've updated the M704 information page and added an Ahtec X70GT page with all the new information. More info after the jump…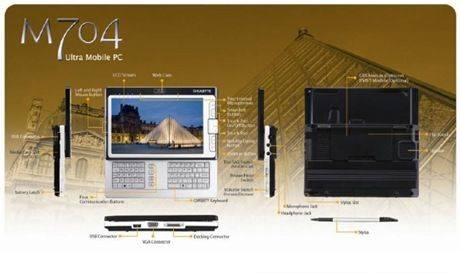 I tested a version of this last year with a 1.0Ghz processor and 6.5" screen and at the time it was quite good value. Using the same VIA platform as the HP 2133 this version will be much more useful though as the 1.0Ghz CPU was just a little too underpowered for a many common tasks. The 7" screen and big increase in real estate is the most important change though and if the LED backlight is good, this will make a useful device for travellers, especially with the docking station which will turn it into a desktop PC. As for the keyboard, it's not fantastic but it's better than the

Q1 Ultra and Everun. Not as good as the HTC Shift's although you can actually thumb this one better than you can the Shift. In terms of size, its really small. Way smaller than an Eee PC or Cloudbook and the HP 2133 is huge in comparison (click image right.) The M704 even covers less area than the HTC Shift although its a few mm thicker. Apparently it has up to 4 hours battery life which, even if it's 3 hours in real use, isn't bad at all. As for VFM, when you compare with the HTC Shift and Q1 Ultra, a price of $1000 isn't bad but when you compare with an Asus Eee PC 900, you need to be considering very carefully how much the size and mobility means to you. I wonder if any U60 owners out there care to comment on build quality and capabilities?
Comparison view of the various branded models.