The lucky lucky lucky guys over at UMPCFever got an Aigo MID [specifications] test device and have started to publish their hands-on reviews and video. This is the first time anyone has ever really had extended private time with a Silverthorne/Menlow-based device so pay attention as the guys have already got Windows XP up and running on the device although judging by their feedback on the Midlinux2.0 OS build, it's looking like things are already pretty sweet out-of-the-box. [Commentary after the pic…]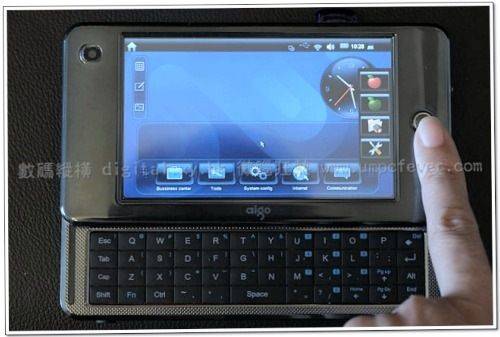 "Compact, Stylish, Innovative and Entertaining" is what they say but there are a few little devils in the details that, even as big fans of MIDs, we need to highlight. Firstly, battery life. 2 hours in-use sounds less than expected and a worrying indicator for other MIDs although put into perspective with other UMPCs, is incredibly efficient. The battery is about 1/3rd the size of the smallest Eee PC battery and weighs something in the region of about 50gm so carrying a spare isn't going to be an issue at all. There's no indication of standby battery life given but I'm estimating 4-5 hours in active standby (device on, screen off.) There's no voice calling capability which might put some people off and UMPCFever also report that the keyboard is too wide for thumbing. I noted that the keyboard was good for thumbing when I tested it out at CeBIT so maybe this just something that's very noticeable if you're used to smaller, smartphone-size sliders like the tester here is.
On the positive side it sounds like the UI performance is smooth and finger friendly and that overall performance is good. "I seldom felt it laps or hang-ups during normal use….I think Microsoft will not want to see this." The UI is so critical to the success of MIDs that if it doesn't near the standards set by the iPhone, its not going to get mainstream acceptance so this is great to hear. There's no word on video playback performance which is something that's also important if MIDs want a chance at displacing high-end PMPs. I'm in contact with UMPCfever about them getting some tests done on this though.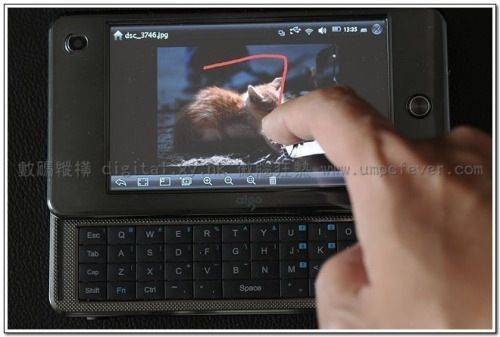 UMPCFever already have three videos up that you must watch. One is embedded below but check out the UMPCFever channel for the other two and more that are being produced as I type!
UMPCFever have done a great job in their English-language article and there is more to come so keep watching UMPCFever while I go and cry with jealousy in the corner of my office.
When you're done, check out the product details page here where we've got links to previous articles both from UMPCPortal and other websites along with videos and, of course, the full specifications and a list of similar devices from our database. You might also want to check out the Gigabyte M528 which is the version that is likely to appear outside Asia.