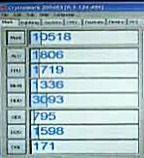 UMPCFever continue their hands-on with the Aigo MID and have been playing with the device running under Windows. While they were there they did a CrystalMark test which gives us the first ever look at how various parts of a Silverthorne-based MID might perform. However, I would take these results with a large pinch of salt as they appear to be on the low side. The memory speed and disk speed figures look especially low so there could be some driver issues. Certainly the graphics figures should be ignored at this stage.
I'd advise to wait for real-life browsing and video figures from the system while running the Atom-optimised Moblin build rather than a vanilla XP build that has never heard of Poulsbo or Silverthorne!
On the image at the top right, from the top are the total score, the ALU test score, the FPU test score the MEM, HDD, GDI, D2D and OGL scores from the Crystalmark test. For a list of ultra mobile PC crystalmark scores, see Ctitanics table of results from various sources.
UMPCFever Aigo MID CrystalMark test video.
Update: A more detailed discussion is continuing on Atom performance details in the forum here.