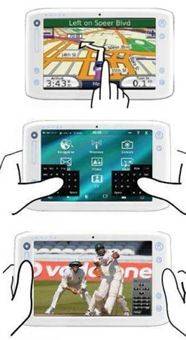 The M700 I previewed earlier looks like a normal 7″ slate ultra mobile PC but it's got quite a few unique features that set it apart from the average UMPC. It's aimed at mobile media usage and includes the VIA 1.2Ghz processor with the new VX800 chipset which has Chrome 9 graphics and video decoding hardware in it. The main feature though is the docking station which is 'IPTV' capable. That is, it has a digital TV decoder in it (the type will obviously depend on the territory that the device is being sold in) and is said to be able to convert and relay video back out via an IP connection. The outstanding question is, does the dock act as a standalone 'head-end' streaming device or does it require the M700 to be in the dock. It would be a bit silly to have to leave the M700 'Mobile' PC in the dock when you go mobile but maybe Gigabyte are counting on you buying two M700's! Methinks not. There's an IR receiver on the dock as well as an optical drive slot and an SD card slot. On the back you'll find TV signal inputs (the device I saw at CeBIT had digital cable inputs) and a plethora of audio and video connectors. I wish I had an image of the back of the dock but I'm afraid that's a photo that I didn't take.
The ultra mobile PC itself looks quite slick. Its very light and has an optical mouse, capacitive scrollbar, GPS and a 1024×600 screen. Gigabyte has included an on-screen keyboard and there appears to be some TV control software included too. Details of this aren't clear at the moment. The other thing that isn't clear is the price and the sales package. Is the dock included or do you have to buy it separately. Gigabyte are aiming to get this one out in Q3 so expect more details and a full review towards the end of summer.
In the video below I've put together some clips that JKK and myself took at CeBIT and an interview session we had Gigabyte. You can also find some images detailing the ports and features of the device in the M700 gallery.
You can find and track more information on the M700 through the UMPCPortal M700 product information page.