CHW, a Chilean website presents a brief but glowing hands-on report for the MSI Wind mentioning good keyboard, a cool temperature, and what can be interpreted as a responsive feel to Windows XP.  It also mentions battery life figures of 3+hours for the 3-cell battery and 7 hours for the 6-cell which, given the slightly more efficient CPU and, hopefully, a more efficient motherboard design combined with the LED-backlit screen, seem reasonable claims. [More after the pic…]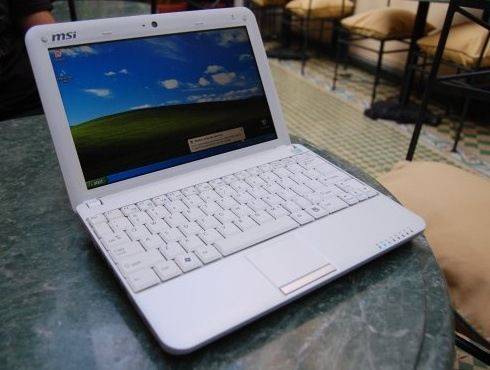 My feeling is that the MSI Wind is going to attract more consumers than the Eee PC. The design looks better, the keyboard looks better and the fact that it's larger and heavier than an Eee PC 900 won't register with people that are used to 13" or 15", 3KG notebooks. It's right on the limit of what I'd call an ultra mobile PC but I think it's right on the mark in terms of consumer appeal.
More specs, links, info and a list of similar products to help you worm your way through the maze of devices that are on the books, are available on the MSI Wind info page in our product database where the MSI Wind has just taken top spot as the most popular device over the last seven days traffic.
Latest availability reports indicate a late-June timeframe.
Source: CHW.net. (Translation link) Thanks for the tip Padam.