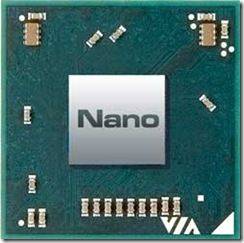 This should be music to the ears of many a pro-mobile fan. The Isaiah CPU from VIA, the CPU expected to return 2-4 times performance over the C7 CPU and said to be a pin-for-pin replacement, will launch with a 'U' version that will go right down to 1.0Ghz. The TDP at 5W is increased over the 3.5W of the 1.0Ghz C7 but presumably it will make up for that requiring less clock cycles than the C7. There is also a new C6 power-saver mode that will help idle power-drain.
The name of the CPU has changed to 'Nano' and VIA has published a press release and launched some new web pages that give some interesting facts and figures. In VIA's comparison tests with the C7, the Nano is returning between 2x and 4x performance. Memory bandwidth is also increased 2x. This aligns well with our own 'leaked' test results.
The press release says that devices based on Nano will appear in Q3 (July-Sept)
[More details below]
What does it mean for devices?
In simple terms it means that devices like the Amtek T770, the Gigabyte M700 (right) and the HP2133 mininote would receive significant usability boosts even down at the 1.0Ghz mark. YouTube will finally play smoothly, browser rendering will be almost as fast as on a desktop and you can finally feel confident about running the latest productivity packages. High-end devices could easily perform as grab-and-go desktops allowing for some PC device consolidation products for the new and brave OEMs out there. The biggest advantage to OEMs though is true Vista capability. Being able to return a satisfying Vista experience frees OEMs from the restrictions of Microsofts ULCPC demands for XP devices so you might start to see some nice high-end designs with touchscreens on convertible or tablet format running Vista which is exactly what the pro-mobile user needs, especially looking forward to 2009 and 2010. An Office-bench result in the Nano white-paper shows a 2.4x increase in results. For OEMS, it means they can extend an industrial design across a wide range of target markets which is something that can't be done with Intels Atom and Core CPU products. I don't see this CPU hitting MID-sized devices though. We're waiting for Mobile-ITX to help with that dream.
We're expecting to see some demo devices at Computex in the next week. For more details on Nano, see VIA's new Nano webpages and their white paper [PDF]