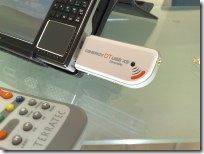 Two things happened today to make me want to write something about mobile TV. Firstly, I was testing the WiBrain with a Terratec DVB USB stick in the car this morning. It was a an interesting and largely successful test of a digital TV standard that wasn't designed to be mobile. I'll write more about my 130km/h testing later but for now, lets take a look at a New York Times article that highlights the growing trend of mobile TV in Europe.
[continues after the break…]
The article highlights how digital mobile broadcasts (not TV over 3G IP) are catching on in Europe which surprises me a little because I haven't seen much in terms of marketing activity for DVB-H capable handsets in Germany or the UK although it appears that Mobile 3.0 in Germany are working hard to bring the service to life before the European Football Cup 2008. The trend is continuing in other parts of the world too. AT&T have just started AT&T Mobile TV in the US and the Japanese market is already well advanced.
What I'm interested in talking about though is the end device. If you mention Mobile TV to anyone in the TV industry they will talk about mobile phones. It's fairly clear why – penetration! Everyone has a mobile phone and if you can make a DVB-H upgrade an attractive option (nice phone, nice price) then its an easy foot in the door. But are mobile phones really the best device?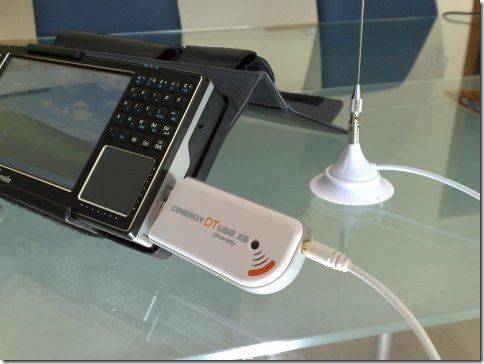 Of course I'm thinking about MIDs here. Just think about some of the advantages; The form factor, screen and battery life is far better suited to mobile TV than a mobile phone is.
Potentially higher processing capability. (Bigger size means more processor options.)
X86 platform for easy software development.
Standard PC hardware architecture
Touchscreen for compelling UI scenarios.
SIM card for the CAM (Conditional access module – think of it as an authorisation method.)
Usable screen size for more comfortable and longer viewing (which includes viewing more ads of course!) A bright, hi-def screen is also impressive and useable for multiple 'guest' viewers.
Better battery capacity; More suited to long term TV or Internet usage scenarios especially when using an Internet back-channel for viewer interactivity. (Voting, user video call-in, gaming)
Better conversion from broadcast ads to consumer Internet activity. If the Internet experience is good, people are more likely to quickly type in the URL seen on an broadcast advert. Using a side-channel (IP over 3G) this can be automated.
Its a NEW gadget which doesn't rely on user upgrade of existing mobile phone (18 month cycle.) Carriers Sell TV + second 3G contract on a new – TV+Internet oriented WebTV 2.0 device!
It's still pocketable.
If MIDs can present a quality experience for mobile video, mobile Internet, mobile TV and mobile navigation, I think that many people would be happy to drop their separate iPods, navigation devices and PMP's and go for an all-in one Internet-enabled device but it's only possible if the MID can present a quality experience. User interface is key and the standards in the market are already high.
Mobile TV is an emerging market and I think it fits well with the emerging technology and devices that are in the MID category, in fact, I think Mobile TV could be a major-selling point for MIDs and if combined well as a 'double-play' Internet+TV offering with some big hardware subsidies, could create a very desirable device category.
New York Times – Mobile TV spreading in Europe and to the US.