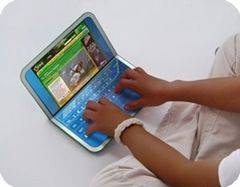 The next generation XO Laptop will be a smaller, dual-touchscreen device consuming just 1W of power and is scheduled for launch by 2010 says Nick Negroponte of the OLPC project.
Laptop Mag were at the launch event today and report that the device will take on a dual-format design that can be used in book or notebook PC modes.
Its an interesting concept although at 1W, which I assume is without Wifi, you'd have to build this on an extremely low power platform. Moorestown or ARM would be the only contenders which means XP or Vista is out of the question. [Vista won't run on Moorestown due to architectural limitations around the lack of a PCI bus] Which leaves either the Moblin distribution or something new from Microsoft.
Laptop Magazine. First Look: OLPC XO Generation 2.0