The pricing game in the cheap notebook category getting rather silly. I'm seeing a lot of 'tricks' being used that will make it very difficult for consumers to sort the wheat from the chaff. The low-end Alpha 400 from Bestlink, a RISC-based Eee-a-like is another example. I'm not going to spend any time reporting details of the device (see LinuxDevices for that) or discuss whether it's a good choice or not but I will report exactly what came into my mind when I read the news about it. Devices like these are nothing much more than smartphones running Linux and placed in notebook casings. I sound very negative when saying that but it shouldn't be taken that way because while current solutions don't provide enough oomph to give most users a serious alternative to a full notebook PC, they do show that we are moving to a point where the smartphone could be the only processing device you need. The idea of a smartphone running inside a notebook form factor really is a trick that needs to be observed. [Analysis after the break.]
Nokia never stops talking about the evolution of the mobile phone into the computer, Celio Redfly is a product based on the same principle (image right,) and for many people in developing countries, the mobile phone is the only computer they use. One of the first UMPCs, the Pepper Pad was based on the same CPU that you will now find in the HTC Advantage and the Sharp Zaurus followed the same idea. Enthusiasts have been running Linux on PocketPCs and other low-cost ARM architectures for years and you'll find it all over the place in industrial scenarios so why isn't it happening in the consumer world? Why are we seeing device like the Alpha 400 appearing and yet many of us walk around with devices in our pockets that would require just a keyboard, screen and extended battery to enable them as similar, general computing devices.
The answer lies in the software and in the processing power. General purpose operating systems like Windows Mobile and S60 don't provide the easy hooks that allow other devices to extend the screen and input experience yet. Celio achieves some success by using in-house developed drivers for Windows Mobile but it needs to be built in to the operating system for it to enable this modular approach for the mass market. It's being worked on though. Nokia have already shown some wireless remote screen technology and I feel sure that the complete remote screen and input support will be something we'll see in the next generation of mobile operating systems. Linux is already well-equipped for this scenario. As for processing power, the current generation of smartphone platforms are still under-powered for most people but that will also change soon.
Cortex A8 cores are just around the corner. This ARM-developed architecture is being used by licensees such as Qualcomm (Scorpion platform) and Ti (OMAP 3430 platform) to make mobile devices that are targeting exactly the mobile computing market that Intel is aiming for with Atom. The Pandora open-source mobile computing development is based on a Cortex A8 CPU (as is being used in Android mobile phone platforms) and the PowerVR graphics solutions (as is used by Intel in their Poulsbo graphics engine) and is an early example of what can be done. It's promoted as "by far the most powerful handheld in the world both in terms of raw CPU power and 3D graphics." [ref]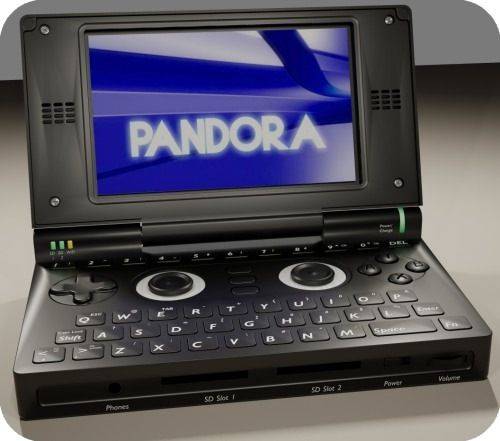 Its only slightly larger than a Nintendo DS and its got specifications that make every pocketable PC fan sit up and take note. Granted, the style-factor is somewhat 'raw' in this redering but this is one of the first Cortex A8 based devices [product brief PDF] that you can find public information on right now and it gives you an idea of how a leading edge ARM-based device could perform. At a similar cost to that Alpha 400!
It is designed as an ultra portable open source computer with gaming controls, it is very small, around about the same size as a DS. It can easily fit in your pocket. It is by far the most powerful handheld in the world both in terms of raw CPU power and 3D graphics capability, it will be able to handle things such as Firefox3 or Quake3 with ease. Around 10+ Hours battery life. [http://openpandora.org/]
I really like Pandora as a device in it's own right as it appears to satisfy most of my portable device requirements. In theory it should be able to return a Firefox experience that's as fast as a low-end MID with Internet page load times being an estimated 30-50% quicker [my estimation] than on high-end smartphones. The application and UI development appears to have a long way to go (development systems are only just going out the door now) and that's a problem that needs to be overcome but ignore my desires for Pandora for a minute and take a wider view on this. Take this architecture, put it in a mobile phone form factor and drop the Android OS, app and GUI suite on top, link-in the necessary online storage and content components, add the docking port (USB? Wireless USB?) and software hooks to a sub $200 X terminal Eee-PC style device that contains a larger battery and you have exactly that modular mobile PC. Smartphone-to-PC.
It's not only ARM that are moving towards closing the gap between PCs and smartphones. Intel are driving in the PC-to-smartphone direction and headed towards the same target. The Atom/Moblin platform has the ultimate aim of being the core of your smartphone and although it looks like its one year behind ARM in being able to reach the Smartphone/PC intersection, Intel is obviously serious about getting there as quickly as possible.
We're still a number of months away from any sort of reality from any platform yet but can anyone deny that there's a compelling case for the phone being the core part of a modular PC somewhere down the line?
Latest: As I finish writing the article and take a break to read some feeds I see this: Toshiba have just licensed the ARM Cortex A9 core. ARM states that its 'ideal for smartphones, and MIDs.' Press release. ARM's Mobile Internet Device info.
Post+9hrs: PCPro posted an article a few weeks ago that clearly highlights ARM's stance. Power, price and performance. I've also just read an interesting ARM vs Intel technical article by Jon Stokes of ars technica.