Most Internet users only use a handful of websites on a regular basis. The same is true of applications too. Want proof? Take a look at Wakoopa and find out for yourself how you use your applications. Me? I'm a 88%+ Firefox user of you look at my recent stats. [More after the image]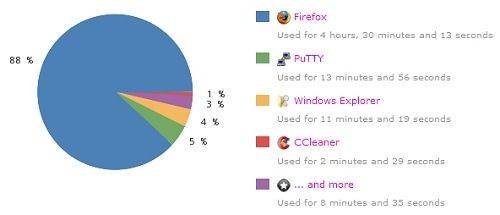 I was introduced to Wakoopa at the Next Web 2008 conference in Amsterdam last month and have been waiting to install it on a fresh ultra mobile PC to get a feel for how I use the device. My current day-to-day device is the Samsung Q1 Ultra and after a re-build last week it made sense to install the tracker that reports back to Wakoopa. What I'm hoping to see is a good outline of the applications I use, the background applications I use, the % time on each application and to get tips on alternatives that could make my experience even better. I've made the profile public too so you can see how I really use the device. You can view it here. I'm not using the Q1 Ultra as my day-to-day work PC but it gets used a lot around the house and of-course, when I'm out and about. I've also added a tracker to the Raon Digital Everun that I'm using occasionally. Mostly in bed and in the car.
One problem with Wakoopa is that I use a lot of applications inside the browser so I've enabled Google Web History to give me feedback on my in-browser usage. I won't make that public but i'll definitely report back when I review my Wakoopa stats in about a months time.
Wouldn't it be good to find out exactly how other people use their applications on a mobile computing device? Lets see if we can build up an image of the average mobile computer users application suite. If you use a Windows-based mobile device, a ultra mobile PC or mininote, sign-up at Wakoopa, install the small tracker and add me, stevechippy, as a contact and we'll find out. I'll report back in two or three weeks and write a summary post about how we use our mobile devices. This could be interesting but I'm guessing that on average, we will be using a browser over 75% of the time.
Update: I've created a ultra mobile PC 'team' in Wakoopa that you can join so that we can instantly see applicaiton use from ultra mobile PC users.