Engagdet got a nice little present yesterday – details on the Dell 'E' PC. Very interesting specs, a large standard battery and a range of SSD configurations. It hardly looks like its for 'developing countries' though! More the Eee PC killer methinks. There are going to be three versions of the 8.9" version, all with different SSD sizes and with the possibility of a webcam and Bluetooth. Prices will start at $299 and the launch target is, as we heard before, August.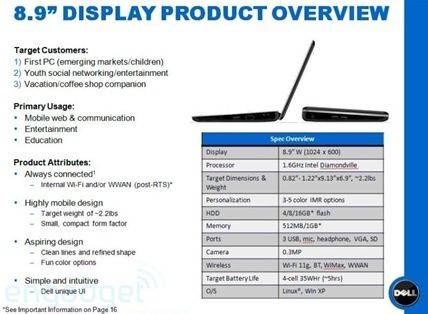 This will certainly compete well with the HP, Acer, ASUS, MSI and ECS and if battery life and mobility is your concern, it looks like one of the better choices.
We've entered all the details in the product database and will be adding links and information as we get it. For a quick comparison of all 16 of the 8.9" netbooks in our database, click here.
Thanks JKK for the heads-up. Engadget have more pics and some interesting comments.