It looks like Engadget had a slow news day on Sunday as they highlighted the full-fat video presentation I'd prepared for the visitors here. "Gigabyte M704 unboxing video excites reviewer, may put you to sleep" was the title. The cheeky monkeys! Fortunately, people that are actually interested in UMPC's appear to have got something out of it and see that it's quite an interesting UMPC. The refresh over the U60 has turned this tiny 7″er into a rather useful and good-value device. Where the 1st-gen Gigabyte U60 had an 800×480 screen, this one has a far more useful and much brighter 1024×600 screen and where the mouse pointer on the U60 was difficult to use, this one is far more useable. Add the noticeable performance improvements that the 1.2Ghz CPU brings over the former 1Ghz version and the device has turned from borderline option to serious top-5 ultra mobile computing choice.
I've been using the M704 non-stop for the last 3-days and can't really find any show-stopping problems with it. The fan could be quieter, the keyboard could do with a backlight, a little more styling would help and a weight reduction down to sub-600gm would help with the long-term two-handed use that is often the case due to the nice split-keyboard but that's about it. The XP-based system (it's a special Gigabyte build optimised with larger font sizes and pre-installed software which, as I understand it, means it can be sold until Jan 2009) is swift enough for all browser-based work and most media files. I was surprised to see a 6mbps WMV file playing with very few frame drops in the Nero8 demo software. Battery life is a true, working, 3 hours. The slider mechanism seems to be tighter than the one I tested on the Medion ultra mobile PC (version) the WiFi is strong and with the docking station, it turns it into quite a nice low-end home PC. I'd even argue that the M704 is more suited to netbook-style operations than netbooks themselves as it's half the size, 75% of the weight and is far, far more fun although that really depends on how much typing you want to do.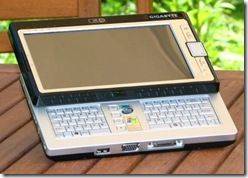 Old and new. Gigabyte U60 and Gigabyte M704. Note the control key changes.
In Europe, the pricing seems to be very competitive. Certainly in Germany, if you buy an M705, you're getting a device that's more useful than a Q1 Ultra for about 75% of the cost but it's double the cost of most netbooks here Sure, you get the touchscreen, 60GB disk, XP, Bluetooth and ability to add the GPS and DVB-T modules and docking station, but you're still paying a few hundred Euros for the extra portability and niche nature of this device. As for U.S. pricing, we'll have to wait and see what the local pricing is.
I'm continuing to add my testing notes and thoughts to this forum thread but the video, while long, probably gives you a better overview. [Click through to full article]