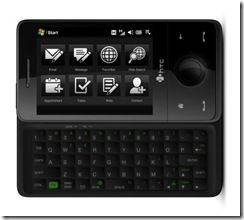 Fans of total mobile device convergence might want to check this out as it looks like an interesting alternative to the Sony Ericsson Xperia X1 that Kornel tested out a while back.
VGA touchscreen, keyboard, HSDPA, 3.2MP CAM, rotation sensor and GPS running on a Qualcomm MSM 7201A @ 528MHz (ARM11+ARM9) platform running Windows Mobile 6.1. Available in Europe, late summer and in North America after that.
With a little Opera 9.5 love this could keep a lot of people happy for a very long time! I think we should drop it into the database as an alternative solution don't you?
More info at Engadget and TheUnwired.