Phew! I was beginning to think that the bottom had dropped out of the MID launch-effort but it seems that the activity was just hidden behind a mountain of increasingly-difficult-to-get-excited-about netbook news.  JKKMobile continued to track ultra mobile PC news coming out of Computex while I was away and I also found a nice clutch of photos from Steve at Fortune Fountain, the DialKeys people, in my inbox. Read on for the the full article.

Clarion MIND. This one was also seen at CES and it's a car-focused device that includes navigation. The price is said to be around $700 which isn't too bad when you compare it to the cost of other car navigation and computing options but it's expensive when compared to navigation-only solutions. Source: PCWorld Australia

BenQ S6. Again, not exactly a new device. Benq has re-named their MID the S6 Mobile Device. They've also added a 2mp rear-facing cam.  Source: CNet Asia (translation link)
Fujitsu U2020. This is the next-generation of the Fujitsu mini convertible devices based on Atom. It's got an improved keyboard and it's shown with the docking station in one of the images. I don't have processor speed info on this one yet but I suspect it's a 1.6 or 1.8Ghz Atom. Expect longer battery life than on the previous U1010/U810 model. JKKmobile.
Samsung MIDs. Samsung re-affirmed their interest in ultra mobile devices for a second time this month in an interview with TechRadar. "sooner or later we will have some [MID] devices." said Samsung.
Finally, here are some images of various MID devices that appeared on the Intel booth at Computex. Two of them are new. Thanks to Steve for sending them in.
The first is from Yukyung technologies who own the Viliv brand and are a member of MIDA, a mobile Internet organisation in Korea. You will recall that we've seen two Viliv devices before (U5 and UMPC) but this one is based on their X5 portable device which currently uses an Alchemy CPU. An upgrade to Atom would turn this into a very nice little tablet. No keyboard unfortunately but despite that, I find it a very interesting device.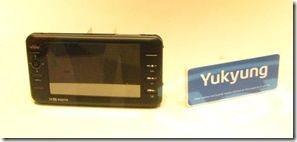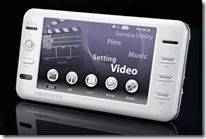 X5 Atom at the Intel booth. The X5 from the Viliv website.
The second is the Digifriends MID that we've seen before. Digifriends are also a member of MIDA. Again, I find this an intresting device, mainly because of the accessory range that is planned.

Finally, here's a nice little N810-esque design from Quanta.
What I find a little surprising though is that despite all the MID presence, no-one gave any idea about release dates. In CeBIT everyone was talking about summer but now, it's gone quiet. I think it's time to get in touch with Intel's press office again to find out what's happening.