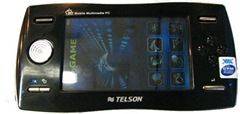 Yes, the ultra-mobile PC sector can be ultra-flippin' niche at times. Here's a gaming-focused ultra mobile PC that includes a 3D screen!
It appears to be a proof-of-concept by a company called Masterimage who have developed a 3D screen that can be used without glasses. [ref] Apart from that its fairly basic UMPC-territory with a 4.3″ 800×480 screen, 512MB RAM and a 30 or 60GB hard drive running XP on a VIA C7-M at 1.2Ghz. Apparently the joystick feels quite good although the screen looks like one of those '3D' postcards.
I'm not feeling the vibe with this one. Maybe you have to be there to appreciate it!
Thanks for sending this in Steve.