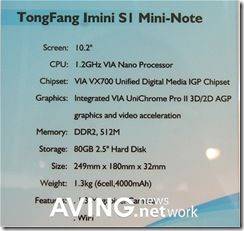 10.2 is just out of the UMPCPortal coverage range (yes, the ASUS 1000 won't get coverage here either) but this is worth noting due to it being the first device we've seen that will be using the VIA Nano processor.
Aving snapped the pic but there's no hands-on or word on price or availability. I'm a little confused as to why they have the old VX700 chipset in there though. A man's Nano-based PC requires VX800 and no less!!
Images of the device, which doesn't look bad at all, over at Aving. Take it from us, the translation is hardly worth reading!