While speaking with our friends at Mobilx this morning I managed to get hold of detailed information on the full M912 range of devices that are launching in Europe. Just a few minutes ago, they also finalised their pricing. It's good! But first the details.
There are 4 versions, two of which will be available in July. One will be a barebones version which will be left to the reseller to configure with their own memory, storage and OS options. The other will be the high-end M912X.
Model name – M912X (M912X-579B)
CPU type – Intel Atom (Diamondville)
CPU speed – 1600 Mhz
Graphics – Intel GMA 950
OS – Windows Vista Home
Display Size – 8.9″ 1280 X 768 Touchscreen (touch weight unknown)
RAM – 1024 MB (limit/upgrade possibility unknown)
Hard Disk –160 GB (2.5″)
Battery capacity – 32 (Whr)
Weight – 1200 gm
Size (w/h/d mm) – 235/180/42 mm
Physical Interfaces

USB2.0 (x3)
MIC-in
Line-out
VGA
Ethernet 10/100
SD card slot
ExpressCard/34

Wireless Interfaces
WebCam 1.3mp
I've highlighted the stand-out specifications. More info and prices after the pic…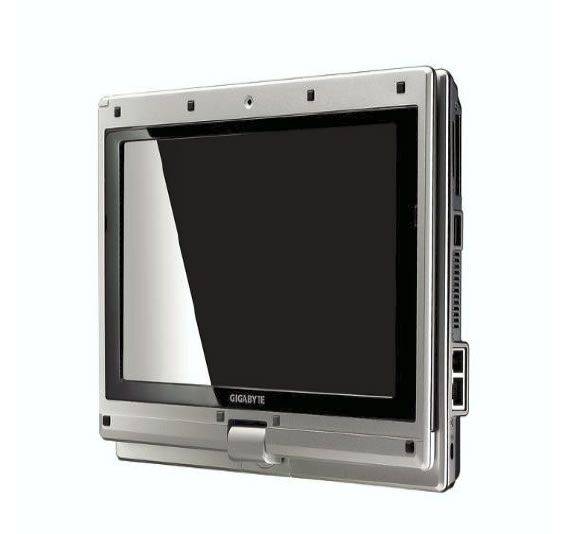 The specs of the high-end X version look very interesting and could provide important features for some users. In theory, the 32Wh 3-cell battery should power it for well over 3 hours (4 hours is claimed. No word on a 6-cell option yet,) the large-capacity 2.5″ HDD should be fast and the hi-resolution touchscreen, ExpressCard34 slot give it an edge over standard netbooks taking into the 'pro mobile' category.
The other two models are:
'Middle' M912S with a lower-resolution 1024×600 screen, smaler 80Gb drive, XP Home and no Bluetooth
'Entry' M912S with the same 1024×600 screen, a 4GB Flash drive running Linux and again, no Bluetooth.
As for the price, it's impressive. Even for dollar holders. Mobilx are offering three of the four devices and here are the prices that have just been posted.
Update: The availability dates have changed since this article was written. The dates changed again. Back to the original!
Entry M912S – 476 Euros (including EU sales taxes – $623 for export) Availability: Sept
Middle M912S – 558 Euros (including EU sales taxes – $731 for export) Availability: Sept.
High-End M912X – 615 Euros (Including EU sales taxes – $805 for export) Availability: End of July
All three devices are available for pre-order now. Check out the details in the product database.
Windows Vista Home, 160GB, touchscreen, 32wh battery, ExpressCard slot and the 1280×768 screen in a small package for 615 Euros. Not quite the sub 1KG device I was hoping for and in need of some hands-on before it's declared a pro-mobile price-breaker (Vista with 1GB has a question-mark over it) or the first ever sub 500 Euros Tablet PC (it could be a light-touch screen) but it's looking promising. We should have one for testing in a week or two so we'll let you know. (Tune to Chippy's Twitter or Friendfeed for the announcement. We'll do a live session on the day we get it.)
Compare M912S (base model) and M912X side-by-side.