This weekend I've had the chance to step back from UMPCs and test a top-end device from a mobile device category that started way back in the late 90's. The iPaq 214, a Windows Mobile PocketPC.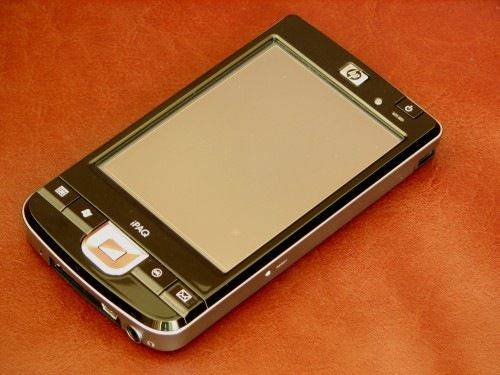 Also known as the iPaq 200,210, 211 and 212, it's a recent update by HP and and attempt to squeeze what I suspect is the last from the PocketPC market, in the Enterprise segment. The reason I've got it is to evaluate Opera Mobile 9.5 Beta, to see how the Windows Mobile software and hardware has moved on since I had my first PocketPC when they were launched in March 2002. Most importantly though I want to take into consideration some of the advances we're hearing about in hardware and software and to see whether a Windows Mobile-based device really could make a suitable consumer-focused mobile Internet and entertainment device. More after the break…
Thanks to PDAShop.nl / PDAShop.be for the loan of this device.
The UK and NL versions are currently available to order.
There are plenty of reviews out there on the iPaq 214 (see below for links) and most are glowing. I agree with all the positive reports and am happy to say that this is the best PocketPC/Non-smartphone Windows Mobile device I've ever used. The 214 uses a high-end processor (624Mhz Marvell Monahans PXA 310 ), which, in the commonly used range of application processors today, is up there in the top quartile. Some of the newer phones like the HTC Touch Diamond and Touch pro and the Sony Experia are (or will be) using higher-powered processors but it's about the best you can find in a device like this today. In terms of memory and storage, there's nothing exciting to talk about. While 128MB RAM might be enough for most small-footprint Windows Mobile programs to run in, its not enough for everything and the 256MB flash ROM isn't enough to store more than a handful of programs. Start thinking about navigation maps and videos and you'll also have to start thinking about using one of the two memory slots.
On the device, you'll see big, high resolution screen (4", 640×480) with auto-brightness sensor and touch capability. The 214 also includes Wifi, Bluetooth, CF and SD card slots, a largish battery in a package weighing 185gm. Its pocketable, but certainly not jeans-pocketable. Its not as small as a smartphone but that's where an advantage comes in. The 4" screen is, in comparison with my old Casseopeia E-115 and my iPaqH2210 a major plus.  The processor too. Again, in comparison with my older PocketPCs, its amazingly quick. Overall, a top-end device and I really doubt you'll ever see anything else this capable based on Windows Mobile 6 or even 6.1.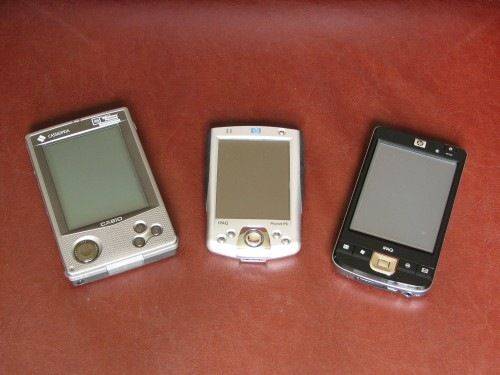 Casio E-115 (2002). iPaq 2210 (2003), iPaq 214 (2008)
There ends the comparison with peer devices then. How about a comparison with Mobile Internet Devices? While the 214 is targeted at business users, its a device that is often seen as a personal information and media device. You don't need to search far on the Internet to find people using these devices in much the same way as MIDs are intended to be used and if we just focus on the consumer market, the MID is the natural progression from the PocketPC. A consumer-focused information and media device. How does it compare to MIDs and small UMPCs?
Today's consumer requirements are much more demanding than they were 6 years ago and because of this, I find the iPaq 214 lacking in many respects. Here's a few thoughts.
Information is not just about saved documents and web pages. Its about the Internet so why is the standard Internet browser built only to handle web pages from the PocketPC launch era? Nothing short of Ajax-capable browsers with tabbing are acceptable today.
Why is the media player unable to play a wide range of formats and bitrates required for high-quality viewing? Flash, h.264, wmv and mpeg-4 are all formats that you'll come across in the online world and consumer devices should be capable of playing these formats without a long-winded hunt for 3rd party software.
Why is there no built-in storage? Par-for-the course is 8-16GB on a media device these days. Users shouldn't have to buy and handle memory cards for their main storage.
Why is the user interface pen-driven and not finger driven?
Why do I need a contacts, address book and calendar when my phone handles this just as well? (Granted, you don't have to use it, and given the addition of voice capability, this device could actually be a persons single comms device.)
Why can't I access the Internet on the go? Consumers are starting to look for 3G features.
Why is the user interface so old-school and so boring.
And then there's the screen size and resolution. 4" VGA isn't enough for a quick and efficient, fun and fast Internet experience. Zooming, panning and selecting might have it's place on 2-4" screens but these handheld devices can take 4.8" screens and offer 800×480 resolutions that are readable and largely avoid the distraction of panning and zooming.
Perspective.
It would be wrong of me to direct all the arguments above at Microsoft and HP and expect them to react. We all know that Microsoft is working on WM7 and that HP have only built this device for business use where some legacy applications requirements still exist. As I said before, this is a great Windows Mobile device and from nearly all perspectives, its irrelevant that it makes a poor mobile internet device. Consumers will never see this in the high-street and the IT-literates that might consider this, know what's available. It's not difficult to make an informed choice these days. One has also to consider the huge range of hardware and software that is out there that can solve some of the problems I mentioned above. The CorePlayer media solution,  16GB flash cards (that could enable up to 32GB of SS storage on this device), pairing and sharing a mobile phone 3G connection and a multitude of other software and peripherals.
Adding a third party browser.
The browser is obviously at the core of the Internet experience and as we've mentioned, Pocket Internet explorer really isn't good enough for today's Internet but there is now a new and exciting software option for browsing on the Windows Mobile platform. Opera Mobile 9.5. It's a big step forward in browser software for mobile devices as it's technically, very high quality and from the users perspective, easy to use. But that's just the Internet software. Is the iPaq 214 hardware able to handle all that the Opera Mobile software asks of it and is that VGA screensize good enough? In the the next article i'll be taking a much closer look at Opera Mobile 9.5 Beta on the iPaq 214.
Part 2 – Ipaq and Opera Mobile 9.5 (not live yet)
Part 3 – Moving forward along the PocketPC Bloodline. (not live yet)
Ipaq 210/214 reviews.
Cnet (Warning – annoying full page pre-roll ad.)