Looking for a convenient place to spent a few hundred dollars? Look no further! The iPod vending machine will suck your money away and replace it with a shiny new Apple flavored gadget!
So this may be old news, but it was certainly the first I've ever seen. I was recently on vacation for a few days in Colorado. At a large mall in Denver there is a Macy's which had an iPod vending machine. When I saw it I did a double take then had a quick chuckle when I realized exactly what I was looking at. I actually said the words "Is that an iPod vending machine?". I pulled out my cell for some low quality shots so I could share with you what I saw.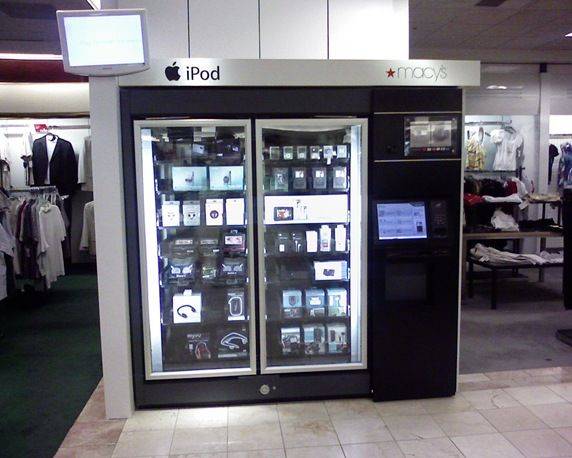 And there it is, an iPod Vending machine. From headphones to full iPod docks, there was a lot of accessories to choose from. But what is an accessory without the iPod itself? Right from the machine you could buy an iPod Touch, Nano, Shuffle or iPod Classic. There were even multiple colors of Nanos. The only actual iPod player that was missing was the iPhone. The whole machine was controlled through a touch screen terminal on the right. I'm not sure how much money Apple actually makes from these vending machines but it surely is interesting to see how easily you could pick yourself up a full set of Apple devices and accessories. Two more shots below.