Energy efficiency is, without a doubt, the most important design factor for any pocketable Ultra Mobile device. On Friday this week, there are two very important launch events taking place that will highlight the advances made in energy efficient computing over the last year. The two devices will also show how us close Intel and ARM partners really are in the race to provide handheld, Internet-focused computers. MIDs.
On one side of the fence, in PC land, Sharp and Willcom will release a pocketable slider-keyboard mobility-focused device. The Sharp Willcom D4 will be running Windows Vista on the Intel Silverthorne/Poulsbo platform also known as Menlow and is likely to be one of the most energy-efficient 3G-enabled PC's so far.
On the other side of the fence, in smartphone land, Apple will release a smaller, 3G-capable mobility-focused device running a highly optimised desktop operating system. The iPhone 3G will be running ARM-based processors and is likely to be one of the most energy-efficient 3G smartphones so far.
The Willcom D4 is said to have (independent tests) a 3G-active time (Internet activity) of around 1.5 hours and it runs a 7wh battery.
The iPhone 3G is said to have (Apple figures) a 3G-active time (Internet activity) of around 5 hours and it is likely to run (my estimates) a battery of about 5.5wh.
3G-active Internet time is a worst-case measure of device efficiency so, based on these early figures, it looks like the Menlow-based device will use about 4.5W and an iPhone will use about 1W.  More after the pic…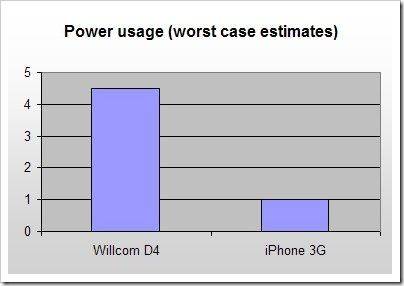 Both figures are very impressive. In my own tests I've only been able to achieve figures of about 9W for a 3G-enabled mobile PC (Everun+3G) and about 2W for a 2008-class 3G smartphone (N82) under similar load conditions. Both new devices appear to be 2x more efficient which is good news for everyone. Its a huge step forward.
In terms of raw processing power though, the 1.3Ghz X86-based Silverthorne in the Willcom D4 is likely to be at least as powerful as an Eee PC 701. This is 6-8 times as powerful as the iPhone. (Based on ARM11 performance. This is the range of figures I've seen put forward.) so the figures still need normalising. Somewhere in the middle, is the sweet-spot that many of us are looking for.
By the end of Friday, we will probably have the first real-life battery life reports for both platforms and we'll be able to see exactly how far the PC world is from the Smartphone world in terms of power efficiency. Either way, Friday is going to be a great day for Ultra Mobility.