Many of us have been anxiously waiting for news about the VIA Nano (formerly Isaiah) processor from VIA. Previous leaked info indicated a 2-4x improvement in processing power for a similar power drain over the older VIA C7 processors and with the Atom processors barely improving on the previous platform in terms of processing power, pro-mobile users were looking for something to fill the high-end gap.
Eeepcnews.de have been testing, (yes, they had one in their hands!) a 1.8Ghz version of the Nano CPU which isn't the CPU we'd be looking for in UMPCs but the results give us some new data points. Firstly, here's the model range. (test results after the image…)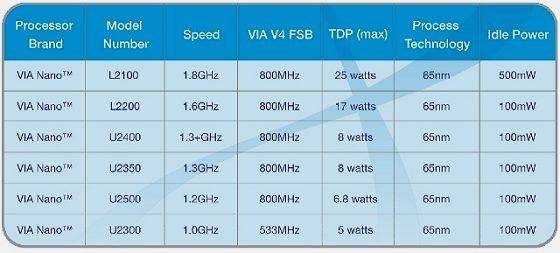 In UMPC-land we should expect to see the 1.0Ghz and, perhaps, the 1.2Ghz device. Nothing more in an enclosed UMPCs. Netbooks, with their split screen/processor design, could probably take the 1.3Ghz versions.
So, to the tests. First thing we have to remember is that the old C7 was never the high-end performer and 2-4 times the processing speed doesn't create a scorcher of a CPU. In the results, you can see that the 1.8Ghz Nano is close to double the performance of the old 1.6Ghz C7-M and about 50% ahead of the Intel Atom at 1.6Ghz. Power usage for the 1.8Ghz part is quite high though. Way too much for any mobile device except traditional, largish laptop.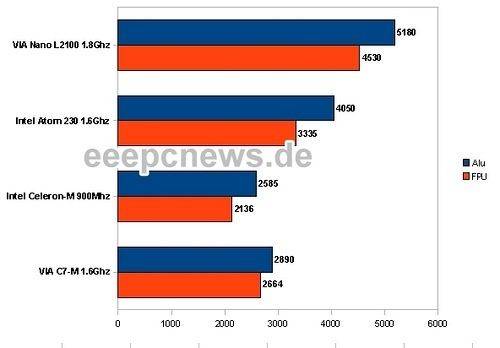 Scaling the figures down, you could say, although this is very fuzzy theory, that the 1.0Ghz CPU is going to have 0.55 times the processing power bringing it right down to Celeron M, 900Mhz territory, about what you'll see in an Atom Z-series at 1.1Ghz or the old 1.6Ghz VIA C7 but that theory probably doesn't work with out-of-order processors and a slower FSB. The previous leaked Isaiah 1.0Ghz test results indicated slightly better results.
At the end of the day, there's not much in it between Atom and Nano. The two CPUs, for the average user, are going to yield similar results across the range with the Nano probably turning in slightly better test results. As we've talked about before, the interesting thing about the Nano is it's pin-for-pin upgrade path, its open ecosystem and its price. For the consumers, it effectively means that there's one less thing to worry about when choosing a ultra mobile PC as the theoretical results are just too close to be able to make any decisions on.
No details about availability were given in the article.
Thanks EeePCNews.de