I missed this one a few days ago. UMPCFever are reporting that NeoSolar, the new owners of the Wibrain brand, will market a new version of the Wibrain with Atom, HSDPA and a makeover. Apparently the info appears on a Wibrain website.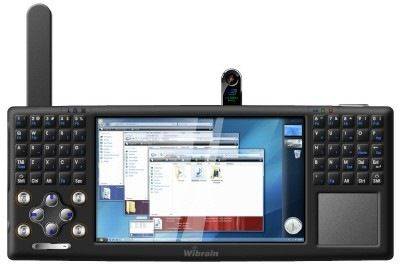 The styling on the rendering that appears on UMPCFever's article looks a lot better than the old version. I hope the back and sides get the same treatment! It would probably have to be a Menlow platform to fit into the Wibrain casing and it would depend on the clockrate as to how powerful it would be. Lets hope for 1.33Ghz and above where hyperthreading and the 533Mhz FSB kicks in. The existing Wibrain has a big, 30wh battery so if they achieve some efficiencies over and above the existing device, it could be a 4hr in-use device. They might solve the heat problems too as it certainly isn't the coolest and quietest on the block.
We've been in contact with Wibrain but haven't had any response yet. One of our reseller contacts might have some more info for us next week though. Stay tuned.
In other WIbrain news, apparently the 32GB SSD versions of the existing version are arriving in stock in Europe (and we assume in other territories) this week.
Oh by the way, if you're wondering what the big black lollypop stick is all about, it is probably a 3G antenna for use in fringe areas. A great idea.