Before I get all excited, I better say up front that the info here is mostly from Raon Digitals marketing group. That said…WOW! The Everun Note could be the most powerful ultra mobile PC yet.
Raon have sent over some early marketing material for the Everun Note and there's a whole lot of interesting information in it. The most interesting is a set of Crystal Mark test results that are showing stunning processing performances figures that are way faster than anything on the ultra mobile PC and netbook market. It blows the 1.3Ghz Core-based Samsung Q1 Ultra Premium out of the water and netbooks are going to look extremely slow beside it! (more after the pic…)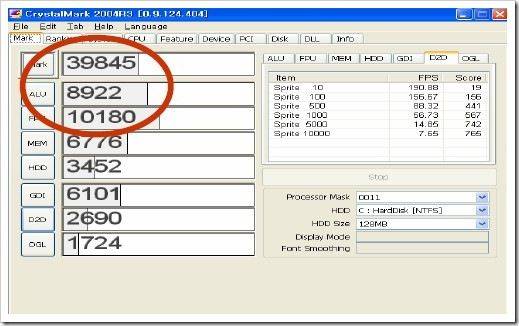 Half of you are saying 'holy cow' (or similar!) and the other half are saying 'but what power is it taking?' The later is an important unanswered question at this point but lets be sensible about it, its not going to be running cool! If you think about how the Turions use the AMD PowerNow! technology though, this could be a processor that scales well across a number of setups. Turn off a core and downclock to read basic web pages and plug in the extended battery pack and wind it up to gaming-quality processing and graphics power. Note that the disk speeds aren't that impressive but everything else is looking great. The sprite 5000 figure you see there at 14.85 FPS is about 14.85 times faster than what I get on my SC3!
The PDF we've received (now uploaded to our server because we know you'll want to read it in full.) also contains information about the battery. Its a single cell, 5200mah cell (19.2wh) which is a similar size as the one in the Fujitsu U810 and Kohjinsha SC3 battery. There's confirmation that the device has a PCI-Express Mini slot and SIM card holder for 3G expansion, info about the external battery solution and a rotating function which I read as being screen display rotation, not physical rotation.
Finally, I'm happy to say that Raon are going to try and send a device over so expect a very long live session when it turns up!
Lazion have some more pics of the device up which show the battery compartment. The image of the Eee 901 next to the Everun Note just makes me laugh.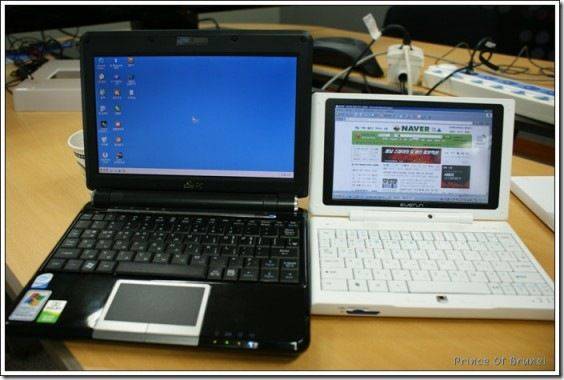 There are some rumours of an $800 local price which sounds about right to me but Raon aren't giving any pricing info away at the moment so I guess this was a ballpark figure someone got hold of. We'll have that info as soon as it's available.
So it looks like this AMD Turion is going to whip all of the the current Nano and Atom variants and its going to be quite a surprise to many people that an AMD processor is appearing in such a small device. AMD recently said that they were taking a wait-and-see approach to the netbook market and I think that still holds true. Turion X2 at 1.2Ghz is going to be an interesting all-rounder and not a low-cost netbook product.
Thanks to Raon Digital for sending over the info.