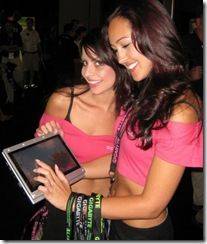 Now that I have your attention, take note that the M912V and M912X are now shipping. Mobilx have a quantity on 912V's awaiting customs clearance and the X versions will leave Taiwan in a few days. Go get em!
The pic comes direct from Nvision where The Tech Report got some hands on.  They seem to be impressed but question the battery life. Commenters there also question the price but when you consider the fast disk, hi-res screen, PCI-Express, easy access to card slot, disk and memory and the convertible touch feature, I cant see that there's really much to moan about. This is a netbook that reaches into the pro-mo (sorry, prosumer-mobile) sector.
In the article you'll see a reference to a new digital TV-enabled version which is probably why they're at the Nvision show. We've just had news of that too from Mobilx. It will be a M912M with DVB-T module know as the M912T. Availability is planned for Oct but frinal price in unknown. Budget for something like a $70-$100 premium. This will be the first time we've seen a ultra mobile PC or netbook with integrated DVB module in Europe and with that fast S-ATA drive and the good media capabilities, raw MPEG-2 recording in direct digital from the DVB stream is going to be easy, making a great multimedia recording and playback system. SageTV should work a treat on this so fingers crossed for a built-in IR receiver, TV-out and remote control. Or will they ship with Vista for the media center? I hope not. I was going to get the M912M but if the 912T is running XP, I'm definitely going to wait for it. Stay tuned for more details.