You have no idea how long I've been waiting for this moment. A reseller with a real price on the Gigabyte M528. The pricing we had from Aigo in Taiwan was spot on because Expansys have just listed the M528 with 3G, GPS, 3mp cam for just 429 UK pounds (549 Euros in Germany.) Sounds expensive? Its not. This is a….well you've heard me talk about it before so I won't give you the full 'FIE' talk now. Take a look at the product page for the full spec list and links to our hands-on reports. It's available on the U.S. site for $689. (more after the pic…)
The availability has dropped out of the UK website now but when I looked earlier, I managed to capture the image. It said 17th September. The availability is the same in the U.S.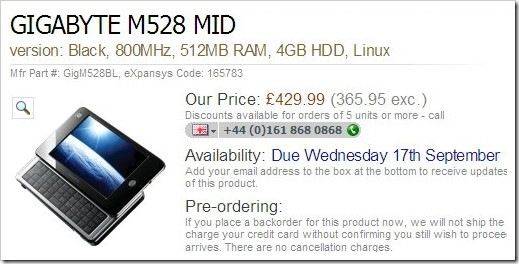 My guess is that pre-orders have just swallowed up the first delivery but i'll try and contact the UK-based company to get clarification. I'll also be begging for a review sample!
M528 Specifications, reviews, links, gallery etc.
Many thanks José. You made my day!