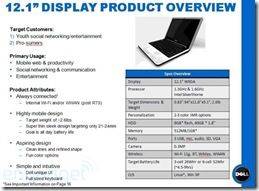 If Intel can prevent OEM's from using the Dual Core CPU in their netbook and notebook designs, how come they can't stop Dell using the Z-Series Atom in a notebook? Just as the Dual-core CPU could damage notebook sales, so to could putting a 12" screen on a netbook, even if it didn't have a dual-core CPU inside.
I was alerted to this misnomer [hmmm wrong word perhaps. Anomaly?] today via a brief news item today from Tony Smith of The Register who draws the conclusion that the name of a leaked Dell device that will go on sale at UK supermarket Tesco,  the Z530, means it will have an Atom Z530 inside. Actually he's right because if you look back to the early leaks, you find a 12.1" 'E-Slim' device based on Silverthorne. Dell are actually going to throw a device right into the middle of the consumer laptop arena and give it netbook-style pricing. This is the danger zone and possibly the beginning of the end for netbooks as we knew them.
Why the Silverthorne CPU and Poulsbo chipset though? Style, Battery life and video. It's going to be a normal laptop aimed at 'pro-sumers' and the 'Youth social networking/entertainment' customers. They are aiming for a cheap, super-slim device with 'all day' battery life with high-end video playback support and the only way they can do it is to move to the latest Intel MID silicon. I like the idea myself. I have a ultra mobile PC (Still haven't pulled the trigger on a new Q1 U HSDPA yet though) and a stylish, 12" ultralight with long, long battery life and high-end hardware decoded video playback would suit me as a partner device to take to conferences and to use for hot-desking.
Why am I even talking about this 12" notebook on UMPCPortal though? Apart from it further bluring the edges of the, once well-defined, netbook category, there are a number of other reasons. The main one for us is that it will be running XP and that means drivers! Those of us waiting for drivers for the SC3, D4, SX3, M528 and Aigo MID are going to finally have XP drivers for the chipset. One can assume that if Dell is the customer, the device will have working drivers too! The second point is one that I alluded to earlier and one that I've just detailed in an email report to UMPCPortal sponsors and donators. The netbook market is going to be damaging because consumers are finding that they can use a netbook in place of a normal laptop. It IS powerful enough for many. Consumers are truly finding peace with netbooks. When devices like this Dell cross over into the larger netbook market, they bring with them the low-cost pricing and that immediately damages the main notebook market. We end up with a pricing war that, in the long run, reduces funds for R&D, quality engineering and niche products. While the 12" Dell netbook device may look good for consumers now, it could cross over into the danger zone and cause real problems for the future.