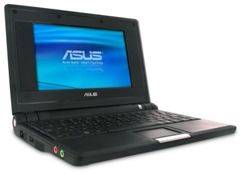 The Eee PC 701 has hit the sub 200-Euro mark in Europe now and I suspect many resellers are looking to move on to the next best thing. 800×480 is officially out of fasion. But not useless, and at these prices low prices you can kit the whole family out with one for the new season. Expansys have the 701 surf (4G, Linux, no cam) available for under 160 pounds! Here's the promo info I got by email earlier today.
New Lower Price on the ASUS Eee PC 701 Surf – only £158.99 inc VAT
eXpansys have reduced the price of the ASUS Eee 701 [aff] to an amazing £158.99 inc VAT. Ideal for students going back to college or university this is one of the smallest and lightest ultra-portables ever made. Not that this mini laptop is just for students, it's hardwearing and a real work horse making it ideal for business. Available in two colours, you can choose between the stylish white and the sophisticated black.
Check the specs in our database here.