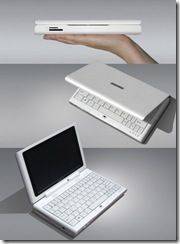 Following on from yesterdays shockingly popular (read: Almost took my site out at one point) post about the Everun Note, I've got some new information pertaining to availability and have a copy of the manual that exposes some good information.
The first shipments should go out on Sept 19th with resellers being able to get them to customers the following week. 4-weeks to wait if you're interested in this one. I have only heard from one reseller so far (Mobilx) but I'm sure there will be others. [Resellers. If you're going to stock this, I'll be happy to relay the information in the official Raon Digital forum we have here.]
I've also got a copy of the manual which I'm not going to post just yet as I haven't been able to check if its final but there are a few interesting items in it that I will air. The first thing that caught my eye was some information about how to use Avivo which is ATI's hardware accelerated video engine. They include a video conversion tool which I assume just uses the hardware-accelerated decoding features of the GPU but this is something I had not considered before, its got hardware video acceleration for MPEG-2, MPEG-4 and WMV. Its good and bad news because it means that video performance will be top-notch [Raon provide details of how to enable the hardware encoding in KMPlayer] but it means that any battery life figures for video playback might not have any relevance to browsing use. Its a shame there's no HDMI output on the Everun Note as this is going be one amazing PMP. [article continues…]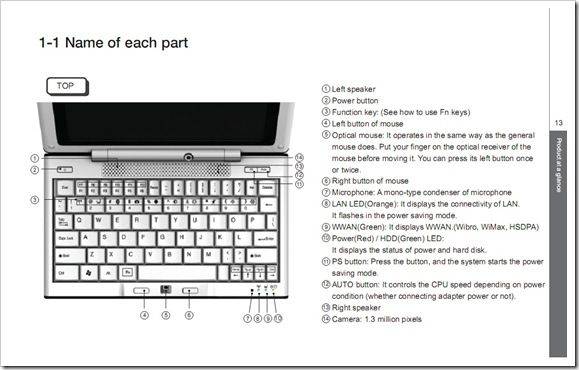 The second thing to note, and this is important, is that you will only achieve full processing power when connected to the mains power. Under battery life, the device will, presumably, downclock the FSB. You'll find this feature on other UMPCs too. The Tablet Kiosk i7210 did this but I only ever noticed it when playing video. The Everun Note should have no problem handling the video and for browsing, the device is going to be powerful even when it's down-clocked but for gaming fans that were looking for portability, you're going to have to buy an external power pack to trick the device into thinking its connected to the mains. It also indicates that at full processing speed, the Everun Note is going to take a lot of power.
There's confirmation in the manual that the Everun Note can be used as a portable hard-drive (when shut down) and this could be a useful feature for some but watch out for the huge security risk that it brings with it. The feature can be turned off if not needed.
As with all the Raon Digital UMPCs before it, Raon Digital have written their own control software. CoxWin enables a single point of control for features like brightness and processing speed and individual control of Wifi, BT and WWAN. It bypasses the Windows ACPI control so normal battery control doesn't work in windows (assuming it's the same as with the previous Everun) but this is one of the ways that Raon engineer their battery life control. Having used it for a long time on the Everun, I'm happy to see it still being used.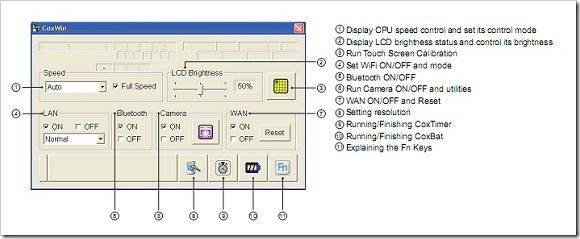 In addition to control through the CoxWin application, Raon have again implemented a 'FN' feature. For those that haven't experienced it on a Raon Digital Everun, its a quick way access extra functions and you really miss it when you move to a device that hasn't got it. For example pressing FN and wiping the optical mouse button implements a quick scroll feature. Fn-I kicks off the default browser. Fn-ESC puts the device into standby and, a new one that I haven't seen before which will help a lot is the FN-touchscreen shortcut to implement a right mouse click on the screen. There's no quick rotate screen function but this,and other graphics functions are implemented by setting shortcuts in the ATI software.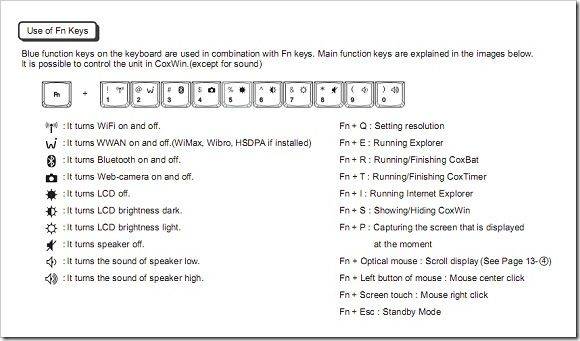 One other interesting point from the manual is that there's evidence of the AMIBIOS system recovery function which can restore the system image in a very short time. This is an extremely useful function for in-the-cloud users as it resets the device back to its original state clearing all the mess out of XP as it does it. Useful and secure.
UMPC-friends, it appears we have a very mobility focused device here that could potentially be the only computer you ever use. It will drive a big monitor and all your apps during desk-based working hours and if you need to go out, just take the 800gms of desktop-standard PC with you and go mobile! I might be getting excited too early but I have a feeling that I am going to be liking this device a lot. The test device is on its way to Germany now and has just left the Philippines. Expected to arrive in Germany tomorrow and then it needs to go through customs. Fingers crossed for a swift delivery to me on Thursday or Friday. Stay tuned here or on Friendfeed for live session announcements. (I've put my microblog on the top-right of the front-page.)
Full specifications and details on the Everun Note available here.