What's the most important browser feature for ultra mobile PC and Tablet users? Touch screen scrolling. Grab and Drag is the name of the game and if I can't have that feature on my browser, I'm losing a ton of capability.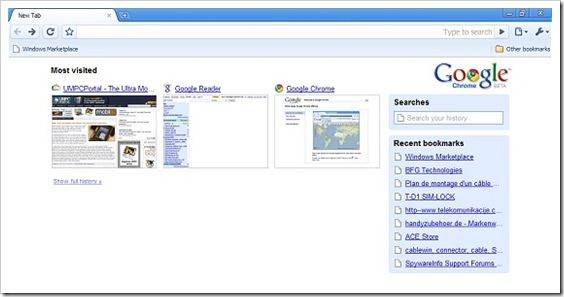 That's why I'm disappointed with Google Chrome, the new browser from Google. It works well on the desktop with fast speeds and a great 'most visited' overview page but on a ultra mobile PC its nowhere near as useful as Firefox 3.
I'll be testing it further over the next day or so but I'm finding it difficult to tear myself away from Firefox 3.
Other notes:
No full-screen.
No grab and drag.
Text zoom only
Fast
Per tab processes should help with page error lock-ups.
Overview feature very nice.
Have spotted an Ajax error with the product database here
Javascript handling seems to be fast
Incognito mode will be good for certain people!!
Anybody else done tests yet?