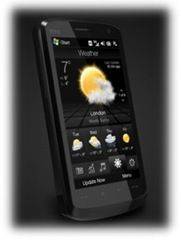 WVGA, even at this 3.5″ screen size, requires zooming to click links with a finger (as it does on the Nokia tablet devices,) there's no mention of the browser so if it's not Opera Mobile 9.5 then it falls flat on its face, its going to be extremely expensive and with the single-core ARM11-based CPU it won't be noticeably faster than a Nokia N800 which, in my opinion, is way too slow to use for any serious Internet work.
The HD Touch Pro looks very nice and will satisfy many people but it really is a styling exercise that won't reach the standards that many of us need in our mobile Internet experience. Windows 6.1 core won't impress anyone expecting a fluid interface to run through the whole system as it does on the iPhone either. The screen will look impressive but experience tells me that 800×480 on such a small screen doesn't work well for Internet use or even for videos so you might as well take a cheaper, smaller VGA device and use Opera Mini for quick Internet bites and a larger mid for more serious internet and video experiences.
[FIE = Full Internet Experience. Our definition of productivity/professional-level Internet requirements]
Thanks to Vakeros for prompting me to take a closer look at the HTC Touch HD.  HTC Press release here.