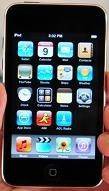 Fear not, ultra mobile PC Portal isn't going to start reporting on audio player news, instead we're just mentioning the iPod Touch refresh as it pertains to the MID category.
That being said: Some of you may have followed the Apple event today. In a nutshell, they dropped some new iPods, iPod Nanos, refreshed the iPod Touch, and released iTunes 8. I'm actually pretty disappointed at the minimal updates to the iPod Touch. Oh well, if it aint' broke, don't fix it, right? The new iPod Touch is very similar aesthetically to its predecessor. The back is rounded and it is ever so slightly thinner. Nike+ receiver is built in (this is the accessory that you put in your shoe and it feeds running info to your iPod). Probably the biggest change is the built in speaker, and volume buttons on the side (just like the iPhone), no silent switch though.
On a related note, Apple also mentioned the latest 2.1 iPod Touch/iPhone firmware, which will come on the new iPod Touch, is currently available for old iPod Touchs, and will be rolled out to iPhones on Friday. Apple is apparently charging $10 for the update (if you are an iPod Touch owner), unless you are already running 2.0+, in which case the update will be free.
Thanks to Engadget's live coverage of the event for the info.
Image courtesy of Gizmodo.com